Young Bloods - [Wellington and Napoleon 01] - Simon Scarrow
Shared by:OldScotsman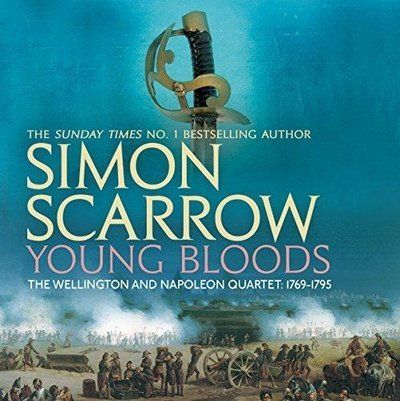 Written by Simon Scarrow
Read by Jonathan Keeble
Format: MP3
Bitrate: 64 Kbps
Unabridged

GENERAL INFORMATION
Book Title:...................Young Bloods
Series Name:...............Wellington and Napoleon
Series No:....................01
Author:........................Simon Scarrow
Narrator:......................Jonathan Keeble
Genre:..........................Historical Adventure

FILE INFORMATION
Source:........................1 eDownloaded DRM protected (Digital Rights Management) 64 Kb File
# of MP3 files:..............19 Files carefully created averaging about one hour duration each
Total Runtime:..............19 Hours 28 Minutes
Encoder:.......................Fraunhofer [FhG] (Guess)
Converted To:...............64 Kb | CBR | 44,100 Hz | Mono with DRM removed
Total Size:.....................535 MB
Converted By:...............OldScotsman
Date Converted:...........15-Feruary-2016
ID3 Tags:......................Includes Image and all info shown on this page (Smart Phone Ready)

ABOUT THE BOOK
Arthur Wesley (the future Duke of Wellington) was born and bred to be a leader. With a firm belief that the nation must be led by a king, the red-coated British officer heads for battle against the French Republic, to restore the fallen monarchy.
Napoleon Bonaparte joins the French military on the eve of the Revolution. He believes leadership is won by merit, not by noble birth. When anarchy explodes in Paris, he's thrust into the revolutionary army poised to march against Britain.
As two mighty empires embark on a bloody duel, Wesley and Bonaparte prepare to face a sworn enemy, unaware that the fate of Europe will one day lie in their hands....

ABOUT THE AUTHOR
Simon Scarrow is a UK-based author, born in Nigeria in 1962 and lived there until his family fled the country during the Biafran war. He is now living in Norfolk with his wife, Carolyn, who runs her own copywriting business, and two sons. . He completed a master's degree at the University of East Anglia, and, after working at the Inland Revenue, went into teaching as a lecturer at City College, Norwich.
After developing a fascination for history thanks to a passionate Latin teacher. Fired by the knowledge gleaned from the exploration of Roman sites, he decided to write what he wanted to read - military page-turners about the adventures of the Roman army from AD 43 onwards.
He is best known for his "Eagle" series. This is Roman empire military fiction, starting with the second invasion of Britain, and continuing with subsequent adventures in every corner of the empire. The stories are told through the eyes of two centurions, Macro and Catog.

ABOUT THE READER
Jonathan Keeble combines his audio work with a busy theatre and TV career. He has featured in over 500 radio plays for the BBC appearing in everything from Shakespeare to Sherlock Holmes to Dr Who and is also the evil Owen in The Archers. Much in demand for his voicework, this ranges from playing Sir Christopher Wren in St. Paul's Cathedral to The Angel of Death in the film Hellboy 2, with stops at all points in between. An award-winning reader, Jonathan has recorded over 100 audiobooks . Jonathan is also the voice for the audiobook of The Joy of Sex, but refuses to say how he got the job.


All the above information including the picture are inserted into the ID3 tags on the MP3 files.

Remember, we have uploaded these books just for you because we wish to SHARE them. It is only right therefore, you SHARE them with others, and the only way you can do this, is to keep SEEDING. In other words, don't stop after you have finished the download. Check and make sure your torrent program is set to continue uploading even after the downloading has been completed. A ratio of 2.0 means you are giving back twice what you have received, the book won't die and all our efforts have not been wasted but 5.0 would be outstanding and shows you have really entered into the spirit of what we are about. WE DO OUR BIT AND YOU DO YOUR BIT, sounds fair, doesn't it. If you are new to this and don't understand, type a message at the bottom and if I can't help, I know someone who can.
Announce URL:
udp://9.rarbg.me:2710/announce
This Torrent also has several backup trackers
Tracker:
udp://9.rarbg.me:2710/announce
Tracker:
udp://10.rarbg.com:80/announce
Tracker:
udp://11.rarbg.com/announce
Tracker:
udp://12.rarbg.me:80/announce
Tracker:
http://anisaishuu.de:2710/announce
Tracker:
udp://a.tv.tracker.prq.to:80/announce
Tracker:
http://bigfoot1942.sektori.org:6969/announce
Tracker:
udp://coppersurfer.tk:6969/announce
Tracker:
udp://exodus.desync.com:6969/announce
Tracker:
udp://glotorrents.pw:6969/announce
Tracker:
udp://inferno.demonoid.ooo:3392/announce
Tracker:
http://inferno.demonoid.ph:3389/announce
Tracker:
udp://ipv4.tracker.harry.lu:80/announce
Tracker:
http://mgtracker.org:2710/announce
Tracker:
udp://open.demonii.com:1337/announce
Tracker:
udp://red.tracker.prq.to:80/announce
Tracker:
udp://sugoi.pomf.se:80/announce
Tracker:
udp://t1.pow7.com:80/announce
Tracker:
http://torrent.gresille.org/announce
Tracker:
udp://tpb.tracker.prq.to:80/announce
Tracker:
udp://tracker2.istole.it:80/announce
Tracker:
udp://tracker4.piratux.com:6969/announce
Tracker:
http://tracker.aletorrenty.pl:2710/announce
Tracker:
http://tracker.ccc.de:80/announce
Tracker:
udp://tracker.coppersurfer.tk:6969/announce
Tracker:
http://tracker.ex.ua:80/announce
Tracker:
http://tracker.ex.ua/announce
Tracker:
udp://tracker.internetwarriors.net:1337/announce
Tracker:
udp://tracker.istole.it:80/announce
Tracker:
udp://tracker.openbittorrent.com:80/announce
Tracker:
udp://tracker.opentrackr.org:1337/announce
Tracker:
udp://tracker.prq.to/announce
Tracker:
udp://tracker.prq.to:80/announce
Tracker:
udp://tracker.publicbt.com:80/announce
Tracker:
http://tracker.pubt.net:2710/announce
Tracker:
udp://tracker.sktorrent.net:6969/announce
Tracker:
udp://tracker.token.ro:80/announce
Tracker:
udp://tv.tracker.prq.to:80/announce
Info Hash:
c91746d178592f063f9966f86166b3274c8b2892
Creation Date:
Tue, 16 Feb 2016 09:20:44 +0000
This is a Multifile Torrent
Jonanathan_Keeble.jpg 5.36 KBs
Simon_Scarrow.jpg 4.88 KBs
Young Bloods - Part 01.mp3 27.37 MBs
Young Bloods - Part 02.mp3 28.94 MBs
Young Bloods - Part 03.mp3 30.4 MBs
Young Bloods - Part 04.mp3 29.93 MBs
Young Bloods - Part 05.mp3 27.91 MBs
Young Bloods - Part 06.mp3 32.96 MBs
Young Bloods - Part 07.mp3 30.04 MBs
Young Bloods - Part 08.mp3 27.88 MBs
Young Bloods - Part 09.mp3 29.24 MBs
Young Bloods - Part 10.mp3 27.69 MBs
Young Bloods - Part 11.mp3 27.11 MBs
Young Bloods - Part 12.mp3 27.26 MBs
Young Bloods - Part 13.mp3 28.17 MBs
Young Bloods - Part 14.mp3 27.22 MBs
Young Bloods - Part 15.mp3 29.62 MBs
Young Bloods - Part 16.mp3 33.95 MBs
Young Bloods - Part 17.mp3 27.64 MBs
Young Bloods - Part 18.mp3 27.56 MBs
Young Bloods - Part 19.mp3 15.3 MBs
Young Bloods Information File File.txt 3.12 KBs
Young_Bloods.jpg 46.96 KBs
Combined File Size:
536.25 MBs
Piece Size:
1 MB
Torrent Encoding:
UTF-8
Seeds:
43
Peers:
6
Completed Downloads:
239
Torrent Download:
Torrent Free Downloads
Tips:
Sometimes the torrent health info isn't accurate, so you can download the file and check it out or try the following downloads.
Direct Download:
Download Files Now
Tips:
You could try out the alternative usenet.nl client.
High Speed Download:
Unlimited Speed Download
Ads: