Westerfield Trilogy - Renee Rose
Shared by:321tex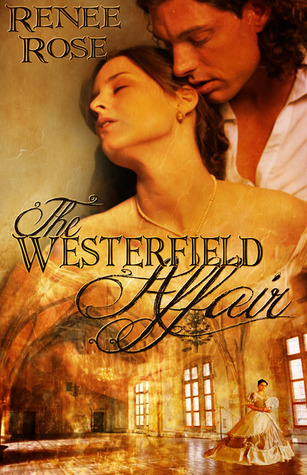 Written by Renee Rose
Format: MP3

1 - The Westerfield Affair

Reserved to the point of being aloof, Lord Westerfield never attended balls or even considered taking a wife… until he met Miss Kitty Stanley and his orderly world turned on end. Determined to have the beautiful and animated sister of his friend from the gambling hall, but doubting his ability to effectively court her, Westerfield strikes a bargain with her brother for her hand.

When the gentlemen present Kitty with the deal, she is furious with them both for neglecting to consult her, but her brother insists he will withdraw his support if she does not comply. Angry, she acts out at a ball, causing a scandal that mushrooms further when Lord Westerfield drags her unchaperoned to his home for a firm spanking.

Upon baring her for chastisement, Westerfield is swept away by desire, and before he can stop himself he has taken her innocence and completed the ruin of her reputation. He offers to release her from the betrothal contract, but her brother insists instead on a hasty marriage. As they attempt to recover from the scandal that becomes known as "the Westerfield Affair," their marriage is clouded by his shame and her insecurities. Will they be trapped forever in a loveless marriage, or will they have the courage to move past their rough beginning to kindle the passion they both crave?

Publisher's Note: The Westerfield Affair is an erotic romance novel that includes both consensual and non-consensual spankings, anal play, graphic sexual scenes, and more. If such material offends you, please don't buy this book.

2 - The Reddington Scandal

When Phoebe's brother-in-law catches the notorious rake Lord Fenton in his home late at night, half-dressed and obviously attempting escape, he flies into a rage, threatening to kill both his wife and Lord Fenton. In a desperate measure to avert bloodshed, Phoebe claims she is Lord Fenton's lover, thereby forcing him to take her as his wife to avoid a scandal.

Knowing full well a philanderer like Teddy Fenton could never remain faithful, Phoebe insists upon separate bedrooms, resolving to resist his charm rather than fall in love and face the pain of his inevitable infidelity. Her handsome husband respects her request for a marriage in name only, but his marital dominance manifests itself in other ways. She soon learns that while he will not force her to his bed, Teddy is more than willing to take her over his knee and spank her bare bottom when her behavior warrants it.

Doubting his ability to stay faithful and not wishing to replicate his parents' miserable existence, Teddy had never intended to take a wife, until he was forced to marry the lovely Phoebe Fletcher and everything changed. Suddenly other women hold no allure for him, and he wants nothing more than to win the affection of his new bride. But just when it seems he might succeed, secrets from her past threaten to destroy their chance at happiness. Can this couple come to love one another as befits a man and wife, or will their marriage end in scandal after all?

Includes special bonus story Disobedience at the Dressmaker's

3 - The Darlington Incident

The note read simply: Meet me at the Westerfield Estate gatehouse at midnight during their Ides of March ball. Bring the twenty-five thousand in notes to exchange for the plans.

Though spymaster John Andrews does not know the identity of the plotters, he is determined to catch them at their treasonous game. Posing as Lord Darlington, he joins the Westerfield weekend fete. Resourceful and clever, he is ready for anything... except falling for his prime suspect, the lovely wallflower Miss Eliza Hunt.

When he finds secret government documents hidden in Eliza's trunk, his temper gets the better of him and he takes her to task, applying a riding crop to her bare bottom. But new evidence leads him to believe Eliza may be innocent and John fears he can bid farewell to his career after getting fresh with the daughter of the wealthy and well-connected Hunt family.

Eliza knows Lord Darlington is not the gentleman he purports to be, but he is the first man to see beyond the ugly birthmark on her face and treat her like a beautiful woman. As he draws her out of her shell and demands she let go of her self-doubt, his claim on her heart grows stronger, even when it becomes clear he stands ready to punish defiance with firm chastisement!

John cannot wait to catch the traitors, clear Eliza of all suspicion, and then claim her as his own, but at the same time he fears his darker desires may mean he is not the sort of man worth having as a husband. Can her whole-hearted love free him from the demons of his past?
Announce URL:
Info Hash:
dfbd7ba75508b8767d53017df0bd77674404f174
Creation Date:
Mon, 11 Jul 2016 22:38:23 +0000
This is a Multifile Torrent
The Westerfield Trilogy Part 2.mp3 159.04 MBs
The Westerfield Trilogy Part 1.mp3 192.59 MBs
Combined File Size:
351.63 MBs
Piece Size:
512 KBs
Torrent Encoding:
UTF-8
Seeds:
44
Peers:
3
Completed Downloads:
177
Torrent Download:
Torrent Free Downloads
Tips:
Sometimes the torrent health info isn't accurate, so you can download the file and check it out or try the following downloads.
Direct Download:
Download Files Now
Tips:
You could try out the alternative usenet.nl client.
High Speed Download:
Unlimited Speed Download
Ads: