[Tucker Wayne 02] - War Hawk - James Rollins and Grant Blackwood
Shared by:OldScotsman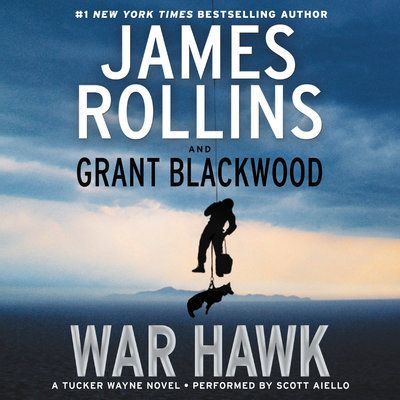 Written by James Rollins and Grant Blackwood
Read by Scott Aiello
Format: MP3
Bitrate: 64 Kbps
Unabridged

GENERAL INFORMATION
Book Title:....................War Hawk
Series Name:...............Tucker Wayne
Series No:....................02
Author:.........................James Rollins and Grant Blackwood
Narrator:......................Scott Aiello
Genre:..........................Adventure Action Thriller

FILE INFORMATION
Source:........................eDownloaded DRM protected (Digital Rights Management) 64 Kb File
# of MP3 files:..............40 Chapterised Files
Total Runtime:..............13 Hours 36 Minutes
Encoder:.......................Lame 3.99r
Converted To:...............64 Kb | CBR | 22,500 Hz | Stereo
Total Size:.....................346 MB
Converted By:...............OldScotsman
Date Converted:...........21-April-2016
ID3 Tags:......................Includes Image and all info shown on this page (Smart Phone Ready)

ABOUT THE BOOK
Former army ranger Tucker Wayne and his war dog, Kane, are thrust into a global conspiracy that threatens to shake the foundations of American democracy in this second exciting Sigma Force spin-off adventure from New York Times best-selling authors James Rollins and Grant Blackwood.
Tucker Wayne's past and his present collide when a former army colleague comes to him for help. She's on the run from brutal assassins hunting her and her son. To keep them safe, Tucker must discover who killed a brilliant young idealist - a crime that leads back to the most powerful figures in the US government.
From the haunted ruins of a plantation in the Deep South to the beachheads of a savage civil war in Trinidad, Tucker and Kane must discover the truth behind a mystery that leads back to World War II, to a true event that is even now changing the world...and will redefine what it means to be human.
With no one to trust, they will be forced to break the law, expose national secrets, and risk everything to stop a madman determined to control the future of modern warfare for his own diabolical ends. But can Tucker and Kane withstand a force so indomitable that it threatens our very future?

ABOUT THE AUTHOR
James Rollins is the pen name of the American veterinarian James Paul Czajkowski (born August 20, 1961), a writer of action-adventure/thriller novels. He gave up his veterinary practice in Sacramento, California, to be a full-time author.
Rollins is an amateur spelunker and a certified scuba diver. These pastimes have helped him to provide content for some of his novels, which are often set in underground or underwater locations. Known for unveiling unseen worlds, scientific breakthroughs, and historical secrets, Rollins has a knack for breakneck pacing and stunning originality that has been hailed by critics and embraced by millions of readers around the world.

ABOUT THE READER
Scott Aiello graduated from the Juilliard Drama Division in NYC and is a TV, film, and voiceover actor who is originally from Chicago.


All the above information including the picture are inserted into the ID3 tags on the MP3 files.

Remember, we have uploaded these books just for you because we wish to SHARE them. It is only right therefore, you SHARE them with others, and the only way you can do this, is to keep SEEDING. In other words, don't stop after you have finished the download. Check and make sure your torrent program is set to continue uploading even after the downloading has been completed. A ratio of 2.0 means you are giving back twice what you have received, the book won't die and all our efforts have not been wasted but 5.0 would be outstanding and shows you have really entered into the spirit of what we are about. WE DO OUR BIT AND YOU DO YOUR BIT, sounds fair, doesn't it. If you are new to this and don't understand, type a message at the bottom and if I can't help, I know someone who can.

Announce URL:
udp://inferno.demonoid.ooo:3392/announce
This Torrent also has several backup trackers
Tracker:
udp://inferno.demonoid.ooo:3392/announce
Tracker:
udp://9.rarbg.me:2710/announce
Tracker:
udp://tracker.coppersurfer.tk:6969/announce
Tracker:
http://torrent.gresille.org/announce
Tracker:
http://tracker.aletorrenty.pl:2710/announce
Tracker:
http://tracker.ex.ua/announce
Tracker:
http://tracker.ex.ua:80/announce
Tracker:
udp://tracker.internetwarriors.net:1337/announce
Tracker:
udp://tracker.opentrackr.org:1337/announce
Tracker:
udp://tracker.sktorrent.net:6969/announce
Tracker:
udp://tracker.leechers-paradise.org:6969
Info Hash:
ac6a8066a57c44c54d0b32fd09a4c9578547f0f6
Creation Date:
Mon, 25 Apr 2016 18:24:00 +0000
This is a Multifile Torrent
01-40.mp3 11.62 MBs
02-40.mp3 9.7 MBs
03-40.mp3 6.54 MBs
04-40.mp3 6.07 MBs
05-40.mp3 7.58 MBs
06-40.mp3 6.9 MBs
07-40.mp3 5.41 MBs
08-40.mp3 11.67 MBs
09-40.mp3 9.03 MBs
10-40.mp3 12.08 MBs
11-40.mp3 9.91 MBs
12-40.mp3 10.36 MBs
13-40.mp3 9.99 MBs
14-40.mp3 6.85 MBs
15-40.mp3 14.05 MBs
16-40.mp3 8.63 MBs
17-40.mp3 10.32 MBs
18-40.mp3 6.21 MBs
19-40.mp3 9.05 MBs
20-40.mp3 6.97 MBs
21-40.mp3 9.47 MBs
22-40.mp3 11.01 MBs
23-40.mp3 9.72 MBs
24-40.mp3 8.48 MBs
25-40.mp3 6.83 MBs
26-40.mp3 9.04 MBs
27-40.mp3 6.92 MBs
28-40.mp3 13.41 MBs
29-40.mp3 9.97 MBs
30-40.mp3 9.87 MBs
31-40.mp3 10.35 MBs
32-40.mp3 8.2 MBs
33-40.mp3 7 MBs
34-40.mp3 6.2 MBs
35-40.mp3 7.87 MBs
36-40.mp3 9.46 MBs
37-40.mp3 10.13 MBs
38-40.mp3 3.52 MBs
39-40.mp3 7.49 MBs
40-40.mp3 4.21 MBs
James_Rollins.jpg 4.3 KBs
Scott_Aiello.jpg 7.78 KBs
Torrent downloaded from Demonoid.ooo.txt 39 Bytes
War Hawk Information File.txt 2.87 KBs
War_Hawk.jpg 46.64 KBs
Combined File Size:
348.18 MBs
Piece Size:
512 KBs
Torrent Encoding:
UTF-8
Seeds:
15
Peers:
4
Completed Downloads:
489
Torrent Download:
Torrent Free Downloads
Tips:
Sometimes the torrent health info isn't accurate, so you can download the file and check it out or try the following downloads.
Direct Download:
Download Files Now
Tips:
You could try out the alternative usenet.nl client.
High Speed Download:
Unlimited Speed Download
Ads: