The Old Man and the Sea - Ernest Hemingway
Shared by:OldScotsman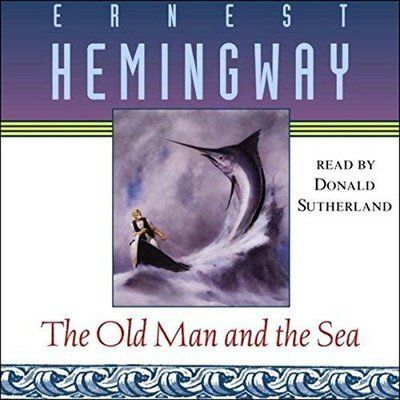 Written by Ernest Hemingway
Read by Ernest Hemingway,The Old Man and the Sea,Donald Sutherland
Format: MP3
Bitrate: 64 Kbps
Unabridged

GENERAL INFORMATION
Book Title:....................The Old Man and the Sea
Author:.........................Ernest Hemingway
Narrator:......................Donald Sutherland
Genre:..........................Classic Adventure
Publisher:.....................Simon Schuster Audio

FILE INFORMATION
Source:........................eDownloaded DRM protected (Digital Rights Management) 64 Kb file
# of MP3 files:..............3
Total Runtime:..............2 Hours 30 Minutes
Encoder:.......................Lame 3.99r
Converted To:...............64 Kb | CBR | 44,100 Hz | Mono with DRM removed
Total Size:.....................61.8 MB
Converted By:...............OldScotsman
Date Converted:...........24-February-2015
ID3 Tags:......................Includes Image and all info shown on this page (Smart Phone Ready)

ABOUT THE BOOK
The Old Man and the Sea is one of Hemingway's most enduring works. Told in language of great simplicity and power, it is the story of an old Cuban fisherman, down on his luck, and his supreme ordeal, a relentless, agonizing battle with a giant marlin far out in the Gulf Stream. Here Hemingway recasts, in strikingly contemporary style, the classic theme of courage in the face of defeat, of personal triumph won from loss.
Written in 1952, this hugely successful novella confirmed Hemingway's power and presence in the literary world and played a large part in his winning the 1954 Nobel Prize for Literature.

ABOUT THE AUTHOR
Ernest Miller Hemingway was an American author and journalist. His economical and understated style had a strong influence on 20th-century fiction, while his life of adventure and his public image influenced later generations. Hemingway produced most of his work between the mid-1920s and the mid-1950s, and won the Nobel Prize in Literature in 1954. He published seven novels, six short story collections and two non-fiction works. Three novels, four collections of short stories and three non-fiction works were published posthumously. Many of these are considered classics of American literature.
Hemingway was born in Chicago in 1899 and raised in Oak Park, Illinois. After high school he reported for a few months for The Kansas City Star, before leaving for the Italian front to enlist with the World War I ambulance drivers. In 1918, he was seriously wounded and returned home. His wartime experiences formed the basis for his novel A Farewell to Arms. In 1922, he married Hadley Richardson, the first of his four wives. The couple moved to Paris, where he worked as a foreign correspondent, and fell under the influence of the modernist writers and artists of the 1920s "Lost Generation" expatriate community. The Sun Also Rises, Hemingway's first novel, was published in 1926.
After his 1927 divorce from Hadley Richardson, Hemingway married Pauline Pfeiffer. They divorced after he returned from Spanish Civil War where he had acted as a journalist, and after which he wrote For Whom the Bell Tolls. Martha Gellhorn became his third wife in 1940. They separated when he met Mary Welsh in London during World War II; during which he was present at the Normandy Landings and liberation of Paris.
Shortly after the publication of The Old Man and the Sea in 1952, Hemingway went on safari to Africa, where he was almost killed in two plane crashes that left him in pain or ill-health for much of the rest of his life. Hemingway had permanent residences in Key West, Florida, and Cuba during the 1930s and 1940s, but in 1959 he moved from Cuba to Ketchum, Idaho, where he committed suicide in the summer of 1961.

ABOUT THE READER
Donald McNichol Sutherland was born 17 July 1935 and is a Canadian actor whose film career spans 50 years.
He graduated from Bridgewater High School then studied at Victoria College, University of Toronto where he graduated with a double major in engineering and drama. He changed his mind about becoming an engineer, and left Canada for Britain in 1957 studying at the London Academy of Music and Dramatic Art. After quitting the London Academy of Music and Dramatic Art (LAMDA), Sutherland spent a year and a half at the Perth Repertory Theatre in Scotland. In the early 1960s, Sutherland began to gain small roles in British films and TV and never looked back.


All the above information including the Image are inserted into the ID3 tags on the MP3 files.

Remember, we have uploaded these books just for you because we wish to SHARE them. It is only right therefore, you SHARE them with others, and the only way you can do this, is to keep SEEDING. In other words, don't stop after you have finished the download. Check and make sure your torrent program is set to continue uploading even after the downloading has been completed. A ratio of 2.0 means you are giving back twice what you have received, the book won't die and all our efforts have not been wasted but 5.0 would be outstanding and shows you have really entered into the spirit of what we are about. WE DO OUR BIT AND YOU DO YOUR BIT, sounds fair, doesn't it. If you are new to this and don't understand, send me a Personal Message in the Forum, not in the comments section below. If I can't help, I know someone who can.

Announce URL:
udp://inferno.demonoid.ooo:3392/announce
This Torrent also has several backup trackers
Tracker:
udp://inferno.demonoid.ooo:3392/announce
Tracker:
udp://9.rarbg.me:2710/announce
Tracker:
udp://tracker.coppersurfer.tk:6969/announce
Tracker:
http://torrent.gresille.org/announce
Tracker:
http://tracker.aletorrenty.pl:2710/announce
Tracker:
http://tracker.ex.ua/announce
Tracker:
http://tracker.ex.ua:80/announce
Tracker:
udp://tracker.internetwarriors.net:1337/announce
Tracker:
udp://tracker.opentrackr.org:1337/announce
Tracker:
udp://tracker.sktorrent.net:6969/announce
Tracker:
udp://tracker.leechers-paradise.org:6969
Info Hash:
6a5207b4768e36baaac78875af8959ce4b4589e6
Creation Date:
Mon, 25 Apr 2016 07:40:59 +0000
This is a Multifile Torrent
Donald_Sutherland.jpg 4.49 KBs
Ernest_Hemingway.jpg 5.9 KBs
The Old Man and the Sea - Part 01.mp3 23.21 MBs
The Old Man and the Sea - Part 02.mp3 21.9 MBs
The Old Man and the Sea - Part 03.mp3 23.04 MBs
The Old Man and the Sea Information File.txt 4.16 KBs
The_Old_Man_and_the_Sea.jpg 36.79 KBs
Torrent downloaded from Demonoid.ooo.txt 39 Bytes
Combined File Size:
68.2 MBs
Piece Size:
128 KBs
Torrent Encoding:
UTF-8
Seeds:
31
Peers:
0
Completed Downloads:
424
Torrent Download:
Torrent Free Downloads
Tips:
Sometimes the torrent health info isn't accurate, so you can download the file and check it out or try the following downloads.
Direct Download:
Download Files Now
Tips:
You could try out the alternative usenet.nl client.
High Speed Download:
Unlimited Speed Download
Ads: