The Ninth Step - [John Milton 08] - Mark Dawson
Shared by:OldScotsman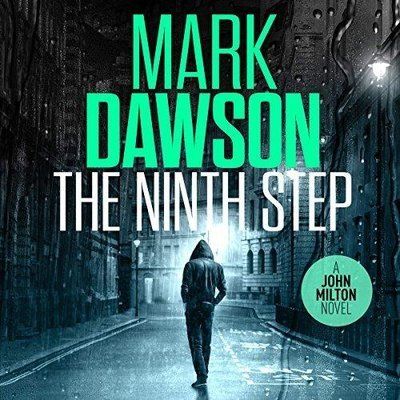 Written by Mark Dawson
Read by David Thorpe
Format: MP3
Bitrate: 64 Kbps
Unabridged

GENERAL INFORMATION
Book Title:....................The Ninth Step
Series Name:...............John Milton
Series No:....................08
Author:.........................Mark Dawson
Narrator:......................David Thorpe
Genre:..........................Adventure Crime Thriller

FILE INFORMATION
Source:........................1 eDownloaded DRM protected (Digital Rights Management) 64 Kb file
# of MP3 files:..............70 Chapterised Files
Total Runtime:..............11 Hours 1 Minutes
Encoder:.......................Lame 3.99r
Converted To:...............64 Kb | CBR | 44,100 Hz | Mono with DRM removed
Total Size:.....................307 MB
Converted By:...............OldScotsman
Date Converted:...........8-March-2016
ID3 Tags:......................Includes Image and all info shown on this page (Smart Phone Ready)

ABOUT THE BOOK
John Milton is a former assassin for the British government. He is a ronin, trying to atone for his past sins by offering his services to those people who have no one else to whom they can turn.
The ninth step of all twelve step programs requires addicts to make amends to the people they've hurt. John Milton's been trying to do that for months, but it's not a simple matter for him because most of the people that he hurt are dead.
Milton is keeping a low profile in London when he meets Eddie Fabian. Fabian confesses that he is considering suicide and that the reason for his depression was the abuse that he suffered as a child. Milton offers to help, but, before he can, Eddie is found dead in circumstances that Milton considers suspicious. And then events take a turn that no one could have anticipated....
Milton's attempted good deed becomes a quest to unveil corruption at the highest levels of government and murder at the dark heart of the criminal underworld. Milton is pulled back into the game, and that's going to have serious consequences for everyone who crosses his path.

ABOUT THE AUTHOR
Mark Dawson was born in Lowestoft and grew up in Manchester, England and Chicago, USA. He has worked as a lawyer and currently works in the London film industry. His first books, "The Art of Falling Apart" and "Subpoena Colada" have been published in multiple languages.
He is currently writing two series. Soho Noir is set in the West End of London between 1940 and 1970. The first book in the series, "The Black Mile", deals with the (real life but little known) serial killer who operated in the area during the Blitz. "The Imposter" traces the journey of a criminal family (think The Sopranos in austerity London and you'd be on the right track).
The John Milton series features a disgruntled special agent who aims to help people to make amends for the terrible things that he has done. Mark, as a child of the 80s, will freely admit that he watched a lot of The Equalizer in his youth.
Mark lives in Wiltshire, England with his family.

ABOUT THE READER
David Thorpe has appeared in numerous stage plays, in repertory and on tour; his television credits include The Brittas Empire, Peak Practice, and Jonathan Creek. Twice a member of the BBC Radio Drama Company, he has been heard in many radio plays and readings.
Although he now spends most of his time behind a microphone, or teaching radio technique at theatre schools, he has also worked as a storyteller, puppeteer, clown, sandwich-man and cleaner.
Born in Sheffield, England, David grew up on the Isle of Wight, and now lives in London with his wife.


All the above information including the Image are inserted into the ID3 tags on the MP3 files.

Remember, we have uploaded these books just for you because we wish to SHARE them. It is only right therefore, you SHARE them with others, and the only way you can do this, is to keep SEEDING. In other words, don't stop after you have finished the download. Check and make sure your torrent program is set to continue uploading even after the downloading has been completed. A ratio of 2.0 means you are giving back twice what you have received, the book won't die and all our efforts have not been wasted but 5.0 would be outstanding and shows you have really entered into the spirit of what we are about. WE DO OUR BIT AND YOU DO YOUR BIT, sounds fair, doesn't it. If you are new to this and don't understand, send me a Personal Message in the Forum, not in the comments section below. If I can't help, I know someone who can.
Announce URL:
udp://9.rarbg.me:2710/announce
This Torrent also has several backup trackers
Tracker:
udp://9.rarbg.me:2710/announce
Tracker:
udp://10.rarbg.com:80/announce
Tracker:
udp://11.rarbg.com/announce
Tracker:
udp://12.rarbg.me:80/announce
Tracker:
http://anisaishuu.de:2710/announce
Tracker:
udp://a.tv.tracker.prq.to:80/announce
Tracker:
http://bigfoot1942.sektori.org:6969/announce
Tracker:
udp://coppersurfer.tk:6969/announce
Tracker:
udp://exodus.desync.com:6969/announce
Tracker:
udp://glotorrents.pw:6969/announce
Tracker:
udp://inferno.demonoid.ooo:3392/announce
Tracker:
http://inferno.demonoid.ph:3389/announce
Tracker:
udp://ipv4.tracker.harry.lu:80/announce
Tracker:
http://mgtracker.org:2710/announce
Tracker:
udp://open.demonii.com:1337/announce
Tracker:
udp://red.tracker.prq.to:80/announce
Tracker:
udp://sugoi.pomf.se:80/announce
Tracker:
udp://t1.pow7.com:80/announce
Tracker:
http://torrent.gresille.org/announce
Tracker:
udp://tpb.tracker.prq.to:80/announce
Tracker:
udp://tracker2.istole.it:80/announce
Tracker:
udp://tracker4.piratux.com:6969/announce
Tracker:
http://tracker.aletorrenty.pl:2710/announce
Tracker:
http://tracker.ccc.de:80/announce
Tracker:
udp://tracker.coppersurfer.tk:6969/announce
Tracker:
http://tracker.ex.ua:80/announce
Tracker:
http://tracker.ex.ua/announce
Tracker:
udp://tracker.internetwarriors.net:1337/announce
Tracker:
udp://tracker.istole.it:80/announce
Tracker:
udp://tracker.openbittorrent.com:80/announce
Tracker:
udp://tracker.opentrackr.org:1337/announce
Tracker:
udp://tracker.prq.to/announce
Tracker:
udp://tracker.prq.to:80/announce
Tracker:
udp://tracker.publicbt.com:80/announce
Tracker:
http://tracker.pubt.net:2710/announce
Tracker:
udp://tracker.sktorrent.net:6969/announce
Tracker:
udp://tracker.token.ro:80/announce
Tracker:
udp://tv.tracker.prq.to:80/announce
Info Hash:
81502e6c7121ebce10c07d0a87001ca35cd89bac
Creation Date:
Wed, 09 Mar 2016 14:44:30 +0000
This is a Multifile Torrent
David_Thorpe.jpg 32.48 KBs
Mark_Dawson.jpg 6.69 KBs
The Ninth Step - 001.mp3 6.85 MBs
The Ninth Step - 002.mp3 5.52 MBs
The Ninth Step - 003.mp3 5.49 MBs
The Ninth Step - 004.mp3 7.16 MBs
The Ninth Step - 005.mp3 5.43 MBs
The Ninth Step - 006.mp3 4.67 MBs
The Ninth Step - 007.mp3 3.23 MBs
The Ninth Step - 008.mp3 7.51 MBs
The Ninth Step - 009.mp3 3.9 MBs
The Ninth Step - 010.mp3 2.44 MBs
The Ninth Step - 011.mp3 3.46 MBs
The Ninth Step - 012.mp3 5.09 MBs
The Ninth Step - 013.mp3 8.76 MBs
The Ninth Step - 014.mp3 4.3 MBs
The Ninth Step - 015.mp3 4.66 MBs
The Ninth Step - 016.mp3 3.18 MBs
The Ninth Step - 017.mp3 2.92 MBs
The Ninth Step - 018.mp3 2.02 MBs
The Ninth Step - 019.mp3 3.15 MBs
The Ninth Step - 020.mp3 2.44 MBs
The Ninth Step - 021.mp3 8.65 MBs
The Ninth Step - 022.mp3 8.96 MBs
The Ninth Step - 023.mp3 3.31 MBs
The Ninth Step - 024.mp3 5.38 MBs
The Ninth Step - 025.mp3 5.23 MBs
The Ninth Step - 026.mp3 6.39 MBs
The Ninth Step - 027.mp3 9.37 MBs
The Ninth Step - 028.mp3 2.38 MBs
The Ninth Step - 029.mp3 4.88 MBs
The Ninth Step - 030.mp3 7.87 MBs
The Ninth Step - 031.mp3 3.13 MBs
The Ninth Step - 032.mp3 5.44 MBs
The Ninth Step - 033.mp3 4.99 MBs
The Ninth Step - 034.mp3 2.06 MBs
The Ninth Step - 035.mp3 3.8 MBs
The Ninth Step - 036.mp3 5.26 MBs
The Ninth Step - 037.mp3 6.04 MBs
The Ninth Step - 038.mp3 6.5 MBs
The Ninth Step - 039.mp3 5.96 MBs
The Ninth Step - 040.mp3 6.76 MBs
The Ninth Step - 041.mp3 1.94 MBs
The Ninth Step - 042.mp3 2.87 MBs
The Ninth Step - 043.mp3 4.91 MBs
The Ninth Step - 044.mp3 2.23 MBs
The Ninth Step - 045.mp3 1.75 MBs
The Ninth Step - 046.mp3 2.56 MBs
The Ninth Step - 047.mp3 3.44 MBs
The Ninth Step - 048.mp3 6.74 MBs
The Ninth Step - 049.mp3 2.35 MBs
The Ninth Step - 050.mp3 3.08 MBs
The Ninth Step - 051.mp3 4.28 MBs
The Ninth Step - 052.mp3 1.13 MBs
The Ninth Step - 053.mp3 5.95 MBs
The Ninth Step - 054.mp3 2.9 MBs
The Ninth Step - 055.mp3 4.07 MBs
The Ninth Step - 056.mp3 2.36 MBs
The Ninth Step - 057.mp3 5.37 MBs
The Ninth Step - 058.mp3 2.34 MBs
The Ninth Step - 059.mp3 2.71 MBs
The Ninth Step - 060.mp3 2.97 MBs
The Ninth Step - 061.mp3 2.98 MBs
The Ninth Step - 062.mp3 3.13 MBs
The Ninth Step - 063.mp3 2.71 MBs
The Ninth Step - 064.mp3 4.41 MBs
The Ninth Step - 065.mp3 3.9 MBs
The Ninth Step - 066.mp3 3.61 MBs
The Ninth Step - 067.mp3 4.17 MBs
The Ninth Step - 068.mp3 7.9 MBs
The Ninth Step - 069.mp3 1.5 MBs
The Ninth Step - 070.mp3 3.07 MBs
The Ninth Step Information File.txt 3.4 KBs
The_Ninth_Step.jpg 55.5 KBs
Combined File Size:
307.99 MBs
Piece Size:
512 KBs
Torrent Encoding:
UTF-8
Seeds:
27
Peers:
3
Completed Downloads:
171
Torrent Download:
Torrent Free Downloads
Tips:
Sometimes the torrent health info isn't accurate, so you can download the file and check it out or try the following downloads.
Direct Download:
Download Files Now
Tips:
You could try out the alternative usenet.nl client.
High Speed Download:
Unlimited Speed Download
Ads: