The Lost Relic- [Ben Hope 06] - Scott Mariani
Shared by:OldScotsman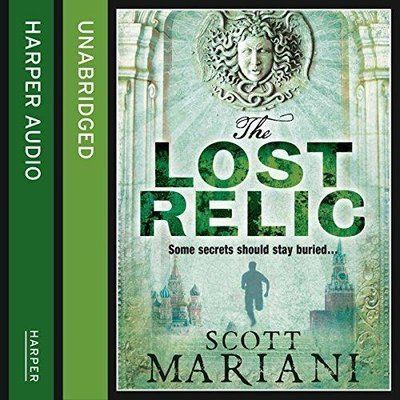 Written by Scott Mariani
Read by Colin Mace
Format: MP3
Bitrate: 64 Kbps
Unabridged

If you have a request for another book or a Re-Seed send me a Personal Message in the Forum, not in the comments section below.

GENERAL INFORMATION
Book Title:....................The Lost Relic
Series Name:................Ben Hope
Series No:....................06
Author:........................Scott Mariani
Narrator:......................Colin Mace
Genre:..........................Adventure Thriller

FILE INFORMATION
Source:........................1 eDownloaded DRM protected (Digital Rights Management) 64 Kb file
# of MP3 files:..............11 Files carefully created averaging about one hour duration each
Total Runtime:..............11 Hours 5 Minutes
Encoder:.......................Lame 3.99
Converted To:...............64 Kb | CBR | 44,100 Hz | Mono with DRM removed
Total Size:.....................304 MB
Converted By:...............OldScotsman
Date Converted:...........11-February-2016
ID3 Tags:......................Includes Image and all info shown on this page (Smart Phone Ready)

ABOUT THE BOOK
Whilst visiting a former SAS comrade in Italy, a distracted Ben nearly runs over a young boy - and unwittingly walks into his deadliest mission yet. Ben's involvement with the boy's family runs deeper as he witnesses their brutal murder at a gallery robbery. A seemingly worthless Goya sketch was the principal target in the bloodbath heist. Now it's up to Ben to find out the truth behind the elusive painting. Wrongly accused of murder and forced to go on the run, he must get to the heart of the conspiracy while he still has the chance....

ABOUT THE AUTHOR
Scott Mariani grew up in the historic town of St Andrews, Scotland. He studied Modern Languages and Film Studies at Oxford University and went on to work as a translator, a professional musician, a pistol shooting instructor and a freelance journalist before becoming a full-time writer. Scott had the idea for the Ben Hope character while out walking one day, and the first draft of the first novel was written in just three weeks. The book had a brief spell in hardback, selling its print run in less than two months. The Avon imprint of HarperCollins then bought the paperback rights and offered Scott a four-book deal, launching the series in earnest. Within less than a year of the initial contract being signed, Scott was commissioned to write three more Ben Hope books. Scott lives in a rambling 1830s country house in the wilds of west Wales. When he isn't writing, he enjoys jazz and archery, is a huge fan of the movies, a keen astronomy buff, and tries to find time to ride his Triumph Bonneville around the country lanes.

ABOUT THE READER
Colin Mace is a highly experienced actor and narrator who has worked extensively in Theatre and Television. His theatre experience includes The Royal Shakespeare Company, The Royal Court and The Almeida, where he performed in Hamlet and which was later taken to Broadway. He also works in television, including appearances in A Touch of Frost, London's Burning, The Bill and Eastenders.


All the above information including the picture are inserted into the ID3 tags on the MP3 files.

Remember, we have uploaded these books just for you because we wish to SHARE them. It is only right therefore, you SHARE them with others, and the only way you can do this, is to keep SEEDING. In other words, don't stop after you have finished the download. Check and make sure your torrent program is set to continue uploading even after the downloading has been completed. A ratio of 2.0 means you are giving back twice what you have received, the book won't die and all our efforts have not been wasted but 5.0 would be outstanding and shows you have really entered into the spirit of what we are about. WE DO OUR BIT AND YOU DO YOUR BIT, sounds fair, doesn't it. If you are new to this and don't understand, type a message at the bottom and if I can't help, I know someone who can.

Announce URL:
udp://9.rarbg.me:2710/announce
This Torrent also has several backup trackers
Tracker:
udp://9.rarbg.me:2710/announce
Tracker:
udp://10.rarbg.com:80/announce
Tracker:
udp://11.rarbg.com/announce
Tracker:
udp://12.rarbg.me:80/announce
Tracker:
http://anisaishuu.de:2710/announce
Tracker:
udp://a.tv.tracker.prq.to:80/announce
Tracker:
http://bigfoot1942.sektori.org:6969/announce
Tracker:
udp://coppersurfer.tk:6969/announce
Tracker:
udp://exodus.desync.com:6969/announce
Tracker:
udp://glotorrents.pw:6969/announce
Tracker:
udp://inferno.demonoid.ooo:3392/announce
Tracker:
http://inferno.demonoid.ph:3389/announce
Tracker:
udp://ipv4.tracker.harry.lu:80/announce
Tracker:
http://mgtracker.org:2710/announce
Tracker:
udp://open.demonii.com:1337/announce
Tracker:
udp://red.tracker.prq.to:80/announce
Tracker:
udp://sugoi.pomf.se:80/announce
Tracker:
udp://t1.pow7.com:80/announce
Tracker:
http://torrent.gresille.org/announce
Tracker:
udp://tpb.tracker.prq.to:80/announce
Tracker:
udp://tracker2.istole.it:80/announce
Tracker:
udp://tracker4.piratux.com:6969/announce
Tracker:
http://tracker.aletorrenty.pl:2710/announce
Tracker:
http://tracker.ccc.de:80/announce
Tracker:
udp://tracker.coppersurfer.tk:6969/announce
Tracker:
http://tracker.ex.ua:80/announce
Tracker:
http://tracker.ex.ua/announce
Tracker:
udp://tracker.internetwarriors.net:1337/announce
Tracker:
udp://tracker.istole.it:80/announce
Tracker:
udp://tracker.openbittorrent.com:80/announce
Tracker:
udp://tracker.opentrackr.org:1337/announce
Tracker:
udp://tracker.prq.to/announce
Tracker:
udp://tracker.prq.to:80/announce
Tracker:
udp://tracker.publicbt.com:80/announce
Tracker:
http://tracker.pubt.net:2710/announce
Tracker:
udp://tracker.sktorrent.net:6969/announce
Tracker:
udp://tracker.token.ro:80/announce
Tracker:
udp://tv.tracker.prq.to:80/announce
Info Hash:
a82e785caf37b75db2866ef3d7245cc1a9ef70b7
Creation Date:
Thu, 11 Feb 2016 18:40:25 +0000
This is a Multifile Torrent
Colin_Mace.jpg 4.61 KBs
Scott_Mariani.jpg 4.16 KBs
The Lost Relic - Part 01.mp3 26.57 MBs
The Lost Relic - Part 02.mp3 26.68 MBs
The Lost Relic - Part 03.mp3 30.64 MBs
The Lost Relic - Part 04.mp3 26.49 MBs
The Lost Relic - Part 05.mp3 28.31 MBs
The Lost Relic - Part 06.mp3 32.08 MBs
The Lost Relic - Part 07.mp3 27.04 MBs
The Lost Relic - Part 08.mp3 29.61 MBs
The Lost Relic - Part 09.mp3 27.52 MBs
The Lost Relic - Part 10.mp3 28.82 MBs
The Lost Relic - Part 11.mp3 21.42 MBs
The Lost Relic Information File.txt 2.88 KBs
The_Lost_Relic.jpg 54.02 KBs
Combined File Size:
305.24 MBs
Piece Size:
512 KBs
Torrent Encoding:
UTF-8
Seeds:
44
Peers:
3
Completed Downloads:
475
Torrent Download:
Torrent Free Downloads
Tips:
Sometimes the torrent health info isn't accurate, so you can download the file and check it out or try the following downloads.
Direct Download:
Download Files Now
Tips:
You could try out the alternative usenet.nl client.
High Speed Download:
Unlimited Speed Download
Ads: