The Glorious Cause - Jeff Shaara
Shared by:OldScotsman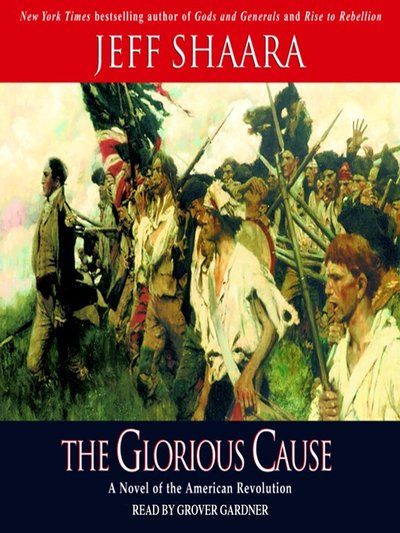 Written by Jeff Shaara
Read by Grover Gardner
Format: MP3
Bitrate: 64 Kbps
Unabridged

If you have a request for another book or a Re-Seed send me a Personal Message in the Forum and not in the comments section below.

GENERAL INFORMATION
Book Title:....................The Glorious Cause
Author:.........................Jeff Shaara
Narrator:......................Grover Gardner
Genre:..........................Historical Adventure
Publisher:.....................Recorded Books

FILE INFORMATION
Source:.........................20 CDs
# of MP3 files:..............20
Total Runtime:..............25 Hours 54 Minutes
Encoder:.......................Lame 3.97U
Converted To:...............64 Kb | CBR | 44,100 Hz | Mono
Total Size:.....................714 MB
Converted By:...............OldScotsman
Date Converted:...........13-November-2003
ID3 Tags:......................Includes Image and all info shown on this page (Smart Phone Ready)

ABOUT THE BOOK
This dramatic sequel to his best selling Rise to Rebellion continues his chronicle of the key characters of the American Revolution and animates some of the most compelling scenes in America's history: Washington's harrowing winter at Valley Forge, Benedict Arnold's tragic downfall, and the fiercely-fought battles at Trenton, Brandywine Creek, and Yorktown.
It was never a war in which the outcome was obvious. Despite their spirit and stamina, the colonists were outmanned and outfought by the brazen British army. General George Washington found his troops trounced in the battles of Brooklyn and Manhattan and retreated toward Pennsylvania. With the future of the colonies at its lowest ebb, Washington made his most fateful decision: to cross the Delaware River and attack the enemy. The stunning victory at Trenton began a saga of victory and defeat that concluded with the British surrender at Yorktown, a moment that changed the history of the world.
The despair and triumph of America's first great army is conveyed in scenes as powerful as any Shaara has written, a story told from the points of view of some of the most memorable characters in American history. There is George Washington, the charismatic leader who held his army together to achieve an unlikely victory; Charles Cornwallis, the no-nonsense British general, more than a match for his colonial counterpart; Nathaniel Greene, who rose from obscurity to become the finest battlefield commander in Washington's army; The Marquis de Lafayette, the young Frenchman who brought a soldier's passion to America; and Benjamin Franklin, a brilliant man of science and philosophy who became the finest statesman of his day.
From Nathan Hale to Benedict Arnold, William Howe to "Light Horse" Harry Lee, from Trenton and Valley Forge, Brandywine and Yorktown, the American Revolution's most immortal characters and poignant moments are brought to life in remarkable Shaara style. Yet, The Glorious Cause is more than just a story of the legendary six-year struggle. It is a tribute to an amazing people who turned ideas into action and fought to declare themselves free. Above all, it is a riveting novel that both expands and surpasses its beloved author's best work.

ABOUT THE AUTHOR
Jeff Shaara, a descendant of Italian immigrants, was born in New Brunswick, New Jersey ("Shaara" was originally spelled "Sciarra"). He grew up in Tallahassee, Florida, and graduated from Florida State University with a degree in Criminology. From age 16, Jeff operated a rare coin business, first out of his home, then in a retail store. After moving to Tampa, Jeff became one of the most widely known coin and precious-metals dealers in Florida. In 1988, Jeff's father, Michael Shaara, died, and Jeff made the decision to sell his business, and take over the management of his father's estate.

ABOUT THE READER
Grover Gardner aka Alexander Adams and Tom Parker is one of America's most popular and versatile audiobook narrators. He began his career in 1981 when he joined the staff of the "Talking Book" program at the Library of Congress in Washington, D.C. Since then he has recorded over 650 commercial audiobook titles.
Grover grew up in Sewickley, Pa. USA and attended high school in Brussels, Belgium. He studied Theater and Art History at Rollins College in Florida and received a Master's degree in Acting from George Washington University. He currently lives in Medford, Oregon with his "significant other," Tanya Perez, who runs her own audiobook proofing and research service. They have a daughter, Alicia Beth Gardner, born April 15th, 2003 and lovingly referred to as "our little tax deduction."


All the above information including the Image are inserted into the ID3 tags on the MP3 files.

Remember, we have uploaded these books just for you because we wish to SHARE them. It is only right therefore, you SHARE them with others, and the only way you can do this, is to keep SEEDING. In other words, don't stop after you have finished the download. Check and make sure your torrent program is set to continue uploading even after the downloading has been completed. A ratio of 2.0 means you are giving back twice what you have received, the book won't die and all our efforts have not been wasted but 5.0 would be outstanding and shows you have really entered into the spirit of what we are about. WE DO OUR BIT AND YOU DO YOUR BIT, sounds fair, doesn't it. If you are new to this and don't understand, send me a Personal Message in the Forum, not in the comments section below. If I can't help, I know someone who can.

Announce URL:
udp://inferno.demonoid.ooo:3392/announce
This Torrent also has several backup trackers
Tracker:
udp://inferno.demonoid.ooo:3392/announce
Tracker:
udp://9.rarbg.me:2710/announce
Tracker:
http://mgtracker.org:2710/announce
Tracker:
udp://tracker.coppersurfer.tk:6969/announce
Tracker:
http://torrent.gresille.org/announce
Tracker:
http://tracker.aletorrenty.pl:2710/announce
Tracker:
http://tracker.ex.ua/announce
Tracker:
http://tracker.ex.ua:80/announce
Tracker:
udp://tracker.internetwarriors.net:1337/announce
Tracker:
udp://tracker.opentrackr.org:1337/announce
Tracker:
udp://tracker.sktorrent.net:6969/announce
Tracker:
udp://tracker.leechers-paradise.org:6969
Info Hash:
38cccace128001e95d526ea474fe0cbfc847e68d
Creation Date:
Sat, 23 Jul 2016 12:43:55 +0000
This is a Multifile Torrent
Grover_Gardner.jpg 64.65 KBs
Jeff_Shaara.jpg 6.59 KBs
The Glorious Cause - CD 01.mp3 36.25 MBs
The Glorious Cause - CD 02.mp3 35.76 MBs
The Glorious Cause - CD 03.mp3 35.96 MBs
The Glorious Cause - CD 04.mp3 35.33 MBs
The Glorious Cause - CD 05.mp3 36.1 MBs
The Glorious Cause - CD 06.mp3 36.09 MBs
The Glorious Cause - CD 07.mp3 35.91 MBs
The Glorious Cause - CD 08.mp3 36.23 MBs
The Glorious Cause - CD 09.mp3 35.88 MBs
The Glorious Cause - CD 10.mp3 35.68 MBs
The Glorious Cause - CD 11.mp3 35.42 MBs
The Glorious Cause - CD 12.mp3 35.63 MBs
The Glorious Cause - CD 13.mp3 35.88 MBs
The Glorious Cause - CD 14.mp3 35.27 MBs
The Glorious Cause - CD 15.mp3 35.59 MBs
The Glorious Cause - CD 16.mp3 35.7 MBs
The Glorious Cause - CD 17.mp3 35.61 MBs
The Glorious Cause - CD 18.mp3 34.92 MBs
The Glorious Cause - CD 19.mp3 35.64 MBs
The Glorious Cause - CD 20.mp3 35.86 MBs
The Glorious Cause Information File.txt 4.32 KBs
The Glorious Cause.jpg 112.38 KBs
Torrent downloaded from Demonoid.ooo.txt 39 Bytes
Combined File Size:
714.88 MBs
Piece Size:
1 MB
Torrent Encoding:
UTF-8
Seeds:
16
Peers:
6
Completed Downloads:
472
Torrent Download:
Torrent Free Downloads
Tips:
Sometimes the torrent health info isn't accurate, so you can download the file and check it out or try the following downloads.
Direct Download:
Download Files Now
Tips:
You could try out the alternative usenet.nl client.
High Speed Download:
Unlimited Speed Download
Ads: