The Firemaker - [The China Thrillers 01] - Peter May
Shared by:OldScotsman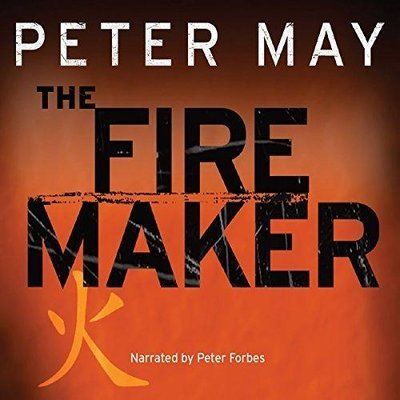 Written by Peter May
Read by Peter Forbes
Format: MP3
Bitrate: 64 Kbps
Unabridged

If you have a request for another book or a Re-Seed send me a Personal Message in the Forum, not in the comments section below.

GENERAL INFORMATION
Book Title:....................The Firemaker
Series Name:...............The China Thrillers
Series No:....................01
Author:.........................Peter May
Narrator:......................Peter Forbes
Genre:..........................Mystery Crime Thriller

FILE INFORMATION
Source:........................1 eDownloaded DRM protected (Digital Rights Management) 64 Kb file
# of MP3 files:..............15 Chaperised Files
Total Runtime:..............13 Hours 52 Minutes
Encoder:.......................Lame 3.99
Converted To:...............64 Kb | CBR | 44,100 Hz | Mono with DRM removed
Total Size:.....................381 MB
Converted By:...............OldScotsman
Date Converted:...........23-August-2015
ID3 Tags:......................Includes Image and all info shown on this page (Smart Phone Ready)

ABOUT THE BOOK
Margaret Campbell, a Chicago forensic pathologist, has been invited by the Chinese government to teach at the Beijing police university. She has accepted the six-week assignment with misgivings but is desperate to escape a troubled life in America. Arriving in Beijing, she checks "nothing to declare" on the health declaration they gave her on the plane---nothing, that is, "except a broken heart and a wasted life, neither of which was contagious."
She gets off to a bad start when her car knocks senior detective Li Yan off his bicycle. In a furious clash, he dresses her down in perfect English. But Li soon finds himself reintroduced to Margaret by his superiors when the newly promoted detective's first case requires Margaret's special expertise to identify a horribly burned corpse. Thrown together to track down the killer, Margaret and Li must bury their personal and cultural differences when they uncover a conspiracy that threatens not only their lives, but the lives of millions.

ABOUT THE AUTHOR
Peter May was born and raised in Scotland and lives in France. He is a successful author, television writer, creator, and producer.
One of Scotland's most prolific and successful television dramatists, he garnered more than 1000 credits in 15 years as scriptwriter and script editor on prime-time British television drama.
He is the creator of three major television drama series and presided over two of the highest-rated drama serials in his homeland before quitting television to return to his first love, writing novels.

ABOUT THE READER
Peter Forbes is a Scottish actor. On television Forbes had an appearance in Casualty, Berkeley Square and The Bill. Peter Forbes trained at the Bristol Old Vic Theatre School and graduated in English from Edinburgh University. One of his most remarkable roles was in the musical Mamma Mia! at the Prince Edward Theatre in London. Other theatre works include the Shakespearean roles in Twelfth Night, Richard III and A Midsummer Night's Dream.


All the above information including the picture are inserted into the ID3 tags on the MP3 files.

Remember, we have uploaded these books just for you because we wish to SHARE them. It is only right therefore, you SHARE them with others, and the only way you can do this, is to keep SEEDING. In other words, don't stop after you have finished the download. Check and make sure your torrent program is set to continue uploading even after the downloading has been completed. A ratio of 2.0 means you are giving back twice what you have received, the book won't die and all our efforts have not been wasted but 5.0 would be outstanding and shows you have really entered into the spirit of what we are about. WE DO OUR BIT AND YOU DO YOUR BIT, sounds fair, doesn't it. If you are new to this and don't understand, type a message at the bottom and if I can't help, I know someone who can.
Announce URL:
udp://9.rarbg.me:2710/announce
This Torrent also has several backup trackers
Tracker:
udp://9.rarbg.me:2710/announce
Tracker:
udp://10.rarbg.com:80/announce
Tracker:
udp://11.rarbg.com/announce
Tracker:
udp://12.rarbg.me:80/announce
Tracker:
http://anisaishuu.de:2710/announce
Tracker:
udp://a.tv.tracker.prq.to:80/announce
Tracker:
http://bigfoot1942.sektori.org:6969/announce
Tracker:
udp://coppersurfer.tk:6969/announce
Tracker:
udp://exodus.desync.com:6969/announce
Tracker:
udp://glotorrents.pw:6969/announce
Tracker:
udp://inferno.demonoid.ooo:3392/announce
Tracker:
http://inferno.demonoid.ph:3389/announce
Tracker:
udp://ipv4.tracker.harry.lu:80/announce
Tracker:
http://mgtracker.org:2710/announce
Tracker:
udp://open.demonii.com:1337/announce
Tracker:
udp://red.tracker.prq.to:80/announce
Tracker:
udp://sugoi.pomf.se:80/announce
Tracker:
udp://t1.pow7.com:80/announce
Tracker:
http://torrent.gresille.org/announce
Tracker:
udp://tpb.tracker.prq.to:80/announce
Tracker:
udp://tracker2.istole.it:80/announce
Tracker:
udp://tracker4.piratux.com:6969/announce
Tracker:
http://tracker.aletorrenty.pl:2710/announce
Tracker:
http://tracker.ccc.de:80/announce
Tracker:
udp://tracker.coppersurfer.tk:6969/announce
Tracker:
http://tracker.ex.ua:80/announce
Tracker:
http://tracker.ex.ua/announce
Tracker:
udp://tracker.internetwarriors.net:1337/announce
Tracker:
udp://tracker.istole.it:80/announce
Tracker:
udp://tracker.openbittorrent.com:80/announce
Tracker:
udp://tracker.opentrackr.org:1337/announce
Tracker:
udp://tracker.prq.to/announce
Tracker:
udp://tracker.prq.to:80/announce
Tracker:
udp://tracker.publicbt.com:80/announce
Tracker:
http://tracker.pubt.net:2710/announce
Tracker:
udp://tracker.sktorrent.net:6969/announce
Tracker:
udp://tracker.token.ro:80/announce
Tracker:
udp://tv.tracker.prq.to:80/announce
Info Hash:
8e1c8f4834ab6078a27b205b81a0eca5dea0170e
Creation Date:
Mon, 01 Feb 2016 09:40:08 +0000
This is a Multifile Torrent
Peter_Forbes.jpg 7.16 KBs
Peter_May.jpg 7.71 KBs
The Firemaker - Chapter 01.mp3 36.67 MBs
The Firemaker - Chapter 02.mp3 39.92 MBs
The Firemaker - Chapter 03.mp3 44.25 MBs
The Firemaker - Chapter 04.mp3 24.07 MBs
The Firemaker - Chapter 05.mp3 15.45 MBs
The Firemaker - Chapter 06.mp3 35.63 MBs
The Firemaker - Chapter 07.mp3 27.88 MBs
The Firemaker - Chapter 08.mp3 37.48 MBs
The Firemaker - Chapter 09.mp3 24.47 MBs
The Firemaker - Chapter 10.mp3 19.9 MBs
The Firemaker - Chapter 11.mp3 33.16 MBs
The Firemaker - Chapter 12.mp3 14.68 MBs
The Firemaker - Chapter 13.mp3 13.07 MBs
The Firemaker - Chapter 14.mp3 13.04 MBs
The Firemaker - Prologue.mp3 2.09 MBs
The Firemaker Information File.txt 2.84 KBs
The_Fire_Maker.jpg 32.4 KBs
Combined File Size:
381.8 MBs
Piece Size:
512 KBs
Torrent Encoding:
UTF-8
Seeds:
27
Peers:
8
Completed Downloads:
199
Torrent Download:
Torrent Free Downloads
Tips:
Sometimes the torrent health info isn't accurate, so you can download the file and check it out or try the following downloads.
Direct Download:
Download Files Now
Tips:
You could try out the alternative usenet.nl client.
High Speed Download:
Unlimited Speed Download
Ads: