[Lincoln Rhyme 03] - The Empty Chair - Jeffery Deaver
Shared by:OldScotsman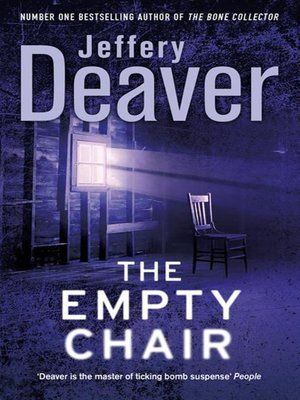 Written by Jeffery Deaver
Read by Jeff Harding
Format: MP3
Bitrate: 64 Kbps
Unabridged

If you have a request for another book or a Re-Seed send me a Personal Message in the Forum, not in the comments section below.

GENERAL INFORMATION
Book Title:....................The empty chair
Series Name:................Lincoln Rhyme
Series No:....................03
Author:.........................Jeffery Deaver
Narrator:......................Jeff Harding
Genre:..........................Psychology Crime Mystery Thriller

FILE INFORMATION
Source:........................eDownload
# of MP3 files:..............11
Total Runtime:..............14 Hours 6 Minutes
Encoder:.......................3.97
Converted To:...............64 Kb | CBR | 44,100 Hz | Stereo
Total Size:.....................387 MB
Converted By:...............OldScotsman
Date Converted:...........03-May-2002
ID3 Tags:......................Includes Image and all info shown on this page (Smart Phone Ready)

ABOUT THE BOOK
When criminalist Lincoln Rhyme travels to a world-famous spinal cord injuries centre in North Carolina for some experimental surgery, he hopes that the operation will give him slightly more movement He knows that it may kill him But before he has a chance to undergo surgery, Rhyme and his assistant are drafted in by the local police department to use their forensic skills to help find two women kidnapped by a psychotic young man known locally as the Insect Boy.

ABOUT THE AUTHOR
Jeffery Deaver was born outside of Chicago in 1950. His father was an advertising copywriter and his mother was a homemaker. Deaver worked as a magazine writer, then, to gain the background needed to become a legal correspondent for The New York Times or Wall Street Journal, he enrolled at Fordham Law School. In 1990 he started to write full time. Deaver has been nominated for six Edgar Awards from the Mystery Writers of America, an Anthony award, a Gumshoe Award, and is a three-time recipient of the Ellery Queen Reader's Award for Best Short Story of the Year. In 2001, he won the W.H. Smith Thumping Good Read Award for his Lincoln Rhyme novel The Empty Chair. In 2004, he was awarded the Crime Writers Association of Great Britain's Ian Fleming Steel Dagger Award for Garden Of Beasts and the Short Story Dagger for "The Weekender."

ABOUT THE READER
Jeff Harding is an American actor from Andover, Massachusetts who attended college in Brunswick, Maine. He is most famed for his narration of popular books into audio format. Notably, he has read The Da Vinci Code, The Bourne Identity, Kane and Abel and Secrets Of The Code. His acting career as speaking extras is well documented, appearing in such high profile productions as Alfie and Tomorrow Never Dies, Hackers and (with Michael Caine) Bullseye!.
Now living in the United Kingdom (since the late 1970s), he has appeared in notable UK comedies such as The Armando Iannucci Shows, The Fast Show and Father Ted. He is also remembered for his role as Orrin Hudson in the 1980s BBC drama series Howards' Way.


All the above information including the picture are inserted into the ID3 tags on the MP3 files.

Remember, we have uploaded these books just for you because we wish to SHARE them. It is only right therefore, you SHARE them with others, and the only way you can do this, is to keep SEEDING. In other words, don't stop after you have finished the download. Check and make sure your torrent program is set to continue uploading even after the downloading has been completed. A ratio of 2.0 means you are giving back twice what you have received, the book won't die and all our efforts have not been wasted but 5.0 would be outstanding and shows you have really entered into the spirit of what we are about. WE DO OUR BIT AND YOU DO YOUR BIT, sounds fair, doesn't it. If you are new to this and don't understand, type a message at the bottom and if I can't help, I know someone who can.
Announce URL:
udp://9.rarbg.me:2710/announce
This Torrent also has several backup trackers
Tracker:
udp://9.rarbg.me:2710/announce
Tracker:
udp://10.rarbg.com:80/announce
Tracker:
udp://11.rarbg.com/announce
Tracker:
udp://12.rarbg.me:80/announce
Tracker:
http://anisaishuu.de:2710/announce
Tracker:
udp://a.tv.tracker.prq.to:80/announce
Tracker:
http://bigfoot1942.sektori.org:6969/announce
Tracker:
udp://coppersurfer.tk:6969/announce
Tracker:
udp://exodus.desync.com:6969/announce
Tracker:
udp://glotorrents.pw:6969/announce
Tracker:
udp://inferno.demonoid.ooo:3392/announce
Tracker:
http://inferno.demonoid.ph:3389/announce
Tracker:
udp://ipv4.tracker.harry.lu:80/announce
Tracker:
http://mgtracker.org:2710/announce
Tracker:
udp://open.demonii.com:1337/announce
Tracker:
udp://red.tracker.prq.to:80/announce
Tracker:
udp://sugoi.pomf.se:80/announce
Tracker:
udp://t1.pow7.com:80/announce
Tracker:
http://torrent.gresille.org/announce
Tracker:
udp://tpb.tracker.prq.to:80/announce
Tracker:
udp://tracker2.istole.it:80/announce
Tracker:
udp://tracker4.piratux.com:6969/announce
Tracker:
http://tracker.aletorrenty.pl:2710/announce
Tracker:
http://tracker.ccc.de:80/announce
Tracker:
udp://tracker.coppersurfer.tk:6969/announce
Tracker:
http://tracker.ex.ua:80/announce
Tracker:
http://tracker.ex.ua/announce
Tracker:
udp://tracker.internetwarriors.net:1337/announce
Tracker:
udp://tracker.istole.it:80/announce
Tracker:
udp://tracker.openbittorrent.com:80/announce
Tracker:
udp://tracker.opentrackr.org:1337/announce
Tracker:
udp://tracker.prq.to/announce
Tracker:
udp://tracker.prq.to:80/announce
Tracker:
udp://tracker.publicbt.com:80/announce
Tracker:
http://tracker.pubt.net:2710/announce
Tracker:
udp://tracker.sktorrent.net:6969/announce
Tracker:
udp://tracker.token.ro:80/announce
Tracker:
udp://tv.tracker.prq.to:80/announce
Info Hash:
11181ae109e4e5922fc2971f7c7d770fce842acb
Creation Date:
Mon, 22 Feb 2016 22:17:14 +0000
This is a Multifile Torrent
Jeff_Harding.jpg 6.29 KBs
Jeffery_Deaver.jpg 4.78 KBs
The Empty Chair Information File.txt 2.77 KBs
The empty chair-Part01.mp3 15.24 MBs
The empty chair-Part02.mp3 22.91 MBs
The empty chair-Part03.mp3 32.31 MBs
The empty chair-Part04.mp3 29.91 MBs
The empty chair-Part05.mp3 28.71 MBs
The empty chair-Part06.mp3 33.57 MBs
The empty chair-Part07.mp3 34.99 MBs
The empty chair-Part08.mp3 32.62 MBs
The empty chair-Part09.mp3 31.19 MBs
The empty chair-Part10.mp3 34.39 MBs
The empty chair-Part11.mp3 33.45 MBs
The empty chair-Part12.mp3 26.75 MBs
The empty chair-Part13.mp3 31.88 MBs
The_Empty_Chair.jpg 34.98 KBs
Combined File Size:
387.98 MBs
Piece Size:
512 KBs
Torrent Encoding:
UTF-8
Seeds:
22
Peers:
9
Completed Downloads:
245
Torrent Download:
Torrent Free Downloads
Tips:
Sometimes the torrent health info isn't accurate, so you can download the file and check it out or try the following downloads.
Direct Download:
Download Files Now
Tips:
You could try out the alternative usenet.nl client.
High Speed Download:
Unlimited Speed Download
Ads: