The Day of the Jackal - Frederick Forsyth
Shared by:OldScotsman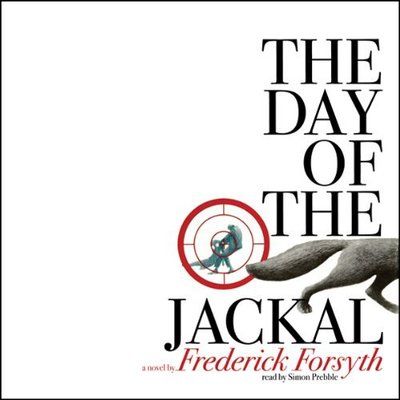 Written by Frederick Forsyth
Read by Simon Prebble
Format: MP3
Bitrate: 64 Kbps
Unabridged

If you have a request for another book or a Re-Seed send me a Personal Message in the Forum and not in the comments section below.

GENERAL INFORMATION
Book Title:....................The Day of the Jackal
Author:.........................Frederick Forsyth
Narrator:......................Simon Prebble
Genre:..........................Classic Thriller
Publisher:.....................Blackstone Audio
ISBN:............................9781 4551 95671

FILE INFORMATION
Source:.........................14 CDs
# of MP3 files:..............14
Total Runtime:..............13 Hours 20 Minutes
Encoder:.......................Lame 3.98
Converted To:...............64 Kb | CBR | 44,100 Hz | Stereo
Total Size:.....................367 MB
Converted By:...............OldScotsman
Date Converted:...........26-March-2010
ID3 Tags:......................Includes Image and all info shown on this page (Smart Phone Ready)

ABOUT THE BOOK
One of the most celebrated thrillers ever written, The Day of the Jackal is the electrifying story of an anonymous Englishman who, in the spring of 1963, was hired to assassinate General Charles de Gaulle.
France was infuriated by Charles de Gaulle's withdrawal from Algeria, and there were six known attempts to assassinate the general that failed. This novel dramatizes the seventh, mostly deadly attempt, involving a professional killer for hire who would be unknown to the French Police. His code name was Jackal, his price half a million dollars, and his demand total secrecy, even from his employers.
Step by painstaking step, we follow the Jackal in his meticulous planning, from the fashioning of a specially made rifle to the devising of his approach to the time and the place where the general is to meet the Jackal's bullet. The only obstacle in his path is a small, diffident, rumpled policeman, who happens to be considered by his boss the best detective in France: Deputy Commissaire Claude Lebel.

ABOUT THE AUTHOR
Frederick Forsyth, CBE, was born in England in 1938 and is an English author and occasional political commentator. He is best known for thrillers such as The Day of the Jackal, The Odessa File, The Fourth Protocol, The Dogs of War, The Devil's Alternative, The Fist of God, Icon, The Veteran, Avenger, The Afghan, and recently The Cobra and The Kill List.
The son of a furrier, he was born in Ashford, Kent, educated at Tonbridge School and later attended the University of Granada. He became one of the youngest pilots in the Royal Air Force at 19, where he served on National Service from 1956 to 1958. Becoming a journalist, he joined Reuters in 1961 and later the BBC in 1965, where he served as an assistant diplomatic correspondent. From July to September 1967, he served as a correspondent covering the Nigerian Civil War between the region of Biafra and Nigeria. He left the BBC in 1968 after controversy arose over his alleged bias towards the Biafran cause and accusations that he falsified segments of his reports. Returning to Biafra as a freelance reporter, Forsyth wrote his first book, The Biafra Story in 1969.
Forsyth decided to write a novel using similar research techniques to those used in journalism. His first full length novel, The Day of the Jackal, was published in 1971 and became an international bestseller and gained its author the Edgar Allan Poe Award for Best Novel. It was later made into a film of the same name.

ABOUT THE READER
Simon Prebble was born in England and reinvented himself as an actor when he came to America in 1990. After twenty years as a radio journalist, BBC announcer, and actor who toured with Ian McKellen in HAMLET, Simon tried narrating two or three audiobooks for Recorded Books in New York and was "hooked." He's now completed nearly 200 audiobooks. "Artistic gold" is a phrase Simon uses to describe audiobook narration. "It gives me the ability to practice my craft--acting. I get to make creative choices--rapidly and constantly, as the narrative progresses." Simon's genius as a narrator lies in the scope of his imagination. The art of narration is the art of communicating what one's imagination sees," says Claudia Howard, artistic director for Recorded Books. "In the Technicolor of his imagination, he can be anybody, police inspector, jockey, psycho-killer, spy." Simon has recorded scores of titles in popular series by Dick Francis, Simon Brett, and Michael Pearce. Simon won't acknowledge any particular gift with accents, and he has a notably light touch with characters. "I like to stay in the background and put the story in the foreground." He says he envisions himself speaking from just behind the listener's ear. Simon finds the most interesting challenges in works of psychological suspense like those of P.D. James and Minette Walters.


All the above information including the Image are inserted into the ID3 tags on the MP3 files.

Remember, we have uploaded these books just for you because we wish to SHARE them. It is only right therefore, you SHARE them with others, and the only way you can do this, is to keep SEEDING. In other words, don't stop after you have finished the download. Check and make sure your torrent program is set to continue uploading even after the downloading has been completed. A ratio of 2.0 means you are giving back twice what you have received, the book won't die and all our efforts have not been wasted but 5.0 would be outstanding and shows you have really entered into the spirit of what we are about. WE DO OUR BIT AND YOU DO YOUR BIT, sounds fair, doesn't it. If you are new to this and don't understand, send me a Personal Message in the Forum, not in the comments section below. If I can't help, I know someone who can.

Announce URL:
udp://inferno.demonoid.ooo:3392/announce
This Torrent also has several backup trackers
Tracker:
udp://inferno.demonoid.ooo:3392/announce
Tracker:
udp://9.rarbg.me:2710/announce
Tracker:
udp://tracker.coppersurfer.tk:6969/announce
Tracker:
http://torrent.gresille.org/announce
Tracker:
http://tracker.aletorrenty.pl:2710/announce
Tracker:
http://tracker.ex.ua/announce
Tracker:
http://tracker.ex.ua:80/announce
Tracker:
udp://tracker.internetwarriors.net:1337/announce
Tracker:
udp://tracker.opentrackr.org:1337/announce
Tracker:
udp://tracker.sktorrent.net:6969/announce
Tracker:
udp://tracker.leechers-paradise.org:6969
Info Hash:
a8fee88594cf9c20cd07281f7769805d30527d10
Creation Date:
Thu, 16 Jun 2016 15:05:01 +0000
This is a Multifile Torrent
Frederick_Forsyth.jpg 4.67 KBs
Simon_Prebble.jpg 4.26 KBs
The Day of the Jackal Information File.txt 4.55 KBs
The Day of the Jackal-Part01.mp3 16.38 MBs
The Day of the Jackal-Part02.mp3 33.34 MBs
The Day of the Jackal-Part03.mp3 32.59 MBs
The Day of the Jackal-Part04.mp3 15.46 MBs
The Day of the Jackal-Part05.mp3 26.25 MBs
The Day of the Jackal-Part06.mp3 14.87 MBs
The Day of the Jackal-Part07.mp3 24.73 MBs
The Day of the Jackal-Part08.mp3 30.69 MBs
The Day of the Jackal-Part09.mp3 27.17 MBs
The Day of the Jackal-Part10.mp3 33.88 MBs
The Day of the Jackal-Part11.mp3 22.92 MBs
The Day of the Jackal-Part12.mp3 34.37 MBs
The Day of the Jackal-Part13.mp3 27.47 MBs
The Day of the Jackal-Part14.mp3 27.87 MBs
The_Day_of_the_Jackal.jpg 26.43 KBs
Torrent downloaded from Demonoid.ooo.txt 39 Bytes
Combined File Size:
368.02 MBs
Piece Size:
512 KBs
Torrent Encoding:
UTF-8
Seeds:
16
Peers:
5
Completed Downloads:
497
Torrent Download:
Torrent Free Downloads
Tips:
Sometimes the torrent health info isn't accurate, so you can download the file and check it out or try the following downloads.
Direct Download:
Download Files Now
Tips:
You could try out the alternative usenet.nl client.
High Speed Download:
Unlimited Speed Download
Ads: