[The Australian Trilogy 03] - Solomon's Song - Bryce Courtenay
Shared by:OldScotsman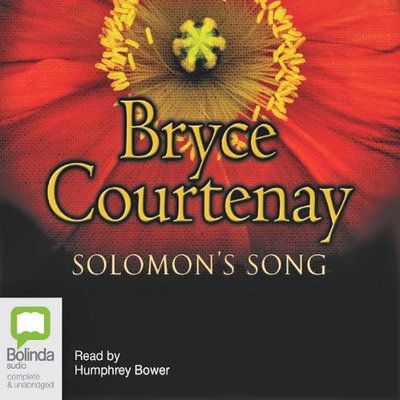 Written by Bryce Courtenay
Read by Humphrey Bower
Format: MP3
Bitrate: 64 Kbps
Unabridged

GENERAL INFORMATION
Book Title:....................Solomon's Song
Series Name:...............The Australian Trilogy
Series No:....................03
Author:.........................Bryce Courtenay
Narrator:......................Humphrey Bower
Genre:..........................Historical Fiction
Publisher:.....................Bolinda Publishing

FILE INFORMATION
Source:.........................17 CDs
# of MP3 files:..............17
Total Runtime:..............19 Hours 28 Minutes
Encoder:.......................Fraunhofer [FhG] (Guess)
Converted To:...............56 Kb | CBR | 22,000 Hz | Stereo
Total Size:.....................469 MB
Converted By:...............Unknown
Date Converted:...........Unknown
ID3 Tags:......................Includes Image and all info shown on this page (Smart Phone Ready)

My thanks to "Pitash" for her copy of this book.

ABOUT THE BOOK
When Mary Abacus dies, she leaves her business empire in the hands of the warring Solomon family. Hawk Solomon is determined to bring together both sides of the tribe - but it is the new generation who must fight to change the future. Solomons are pitted against Solomons as the families are locked in a bitter struggle that crosses battlefields and continents to reach a powerful conclusion. SOLOMON'S SONG is a novel of courage and betrayal in which Bryce Courtenay tells the story of Australia's journey to nationhood. . .

ABOUT THE AUTHOR
Bryce Courtenay was born illegitimately in 1933 in South Africa and spent his early childhood years in a small town deep in the heart of the Lebombo mountains. It was a somewhat isolated community and grew up among farm folk and the African people. At the age of five he was sent to a boarding school which might be better described as a combination orphanage and reform school, where he learned to box - though less as a sport and more as a means to stay alive.
He survived to return to a small mountain town named Barberton in the North Eastern part of the country. Here he met Doc, a drunken German music teacher who spent the next few years filling his young mind with the wonders of nature as they roamed the high mountains. His was the best education he was ever to receive, he said, despite the scholarship he won to a prestigious boy's school and thereafter to a university in England where he studied Journalism.
He came to Australia because he was banned from returning to his own country. This was due to the fact that he had started a weekend school for Africans in the school hall of the prestigious boy's school he attended. One day the school hall was raided by the police who then branded him a Communist as they considered educating Africans a subversive act.
While studying journalism, he met a Australian girl. "Come to my country!" Benita invited. He did, and soon after arriving in Australia, married her. Benita gave him three splendid sons, Brett, Adam and Damon. Brett.
He lived all his Australian life in Sydney and, until he started writing fiction, made a career in advertising working as a copywriter and creative director. At the age of 55 he decided to take the plunge. He had been telling stories since the age of five and had always known he would be a writer some day, though life kept getting in the way until he realised that it was either now or never.
Bryce Courtenay died at his home in Canberra, Australia. He was 79.

ABOUT THE READER
Humphrey Bower is a gifted and versatile actor. Since obtaining a BA in English Language and Literature at Oxford University he has worked extensively in theater, television, and audiobook narration. Humphrey won the prestigious Audie Award for his performance of The Family Frying Pan by Bryce Courtenay, and has been short-listed for an Audie Award for his performances of Gould's Book of Fish by Richard Flanagan and Brother Fish by Bryce Courtenay. Humphrey's sensitive and intelligent readings are highly regarded and he is well-known for his capacity to perform a variety of accents.


All the above information including the Image are inserted into the ID3 tags on the MP3 files.

Remember, we have uploaded these books just for you because we wish to SHARE them. It is only right therefore, you SHARE them with others, and the only way you can do this, is to keep SEEDING. In other words, don't stop after you have finished the download. Check and make sure your torrent program is set to continue uploading even after the downloading has been completed. A ratio of 2.0 means you are giving back twice what you have received, the book won't die and all our efforts have not been wasted but 5.0 would be outstanding and shows you have really entered into the spirit of what we are about. WE DO OUR BIT AND YOU DO YOUR BIT, sounds fair, doesn't it. If you are new to this and don't understand, send me a Personal Message in the Forum, not in the comments section below. If I can't help, I know someone who can.
Announce URL:
udp://inferno.demonoid.ooo:3392/announce
This Torrent also has several backup trackers
Tracker:
udp://inferno.demonoid.ooo:3392/announce
Tracker:
udp://9.rarbg.me:2710/announce
Tracker:
udp://tracker.coppersurfer.tk:6969/announce
Tracker:
http://torrent.gresille.org/announce
Tracker:
http://tracker.aletorrenty.pl:2710/announce
Tracker:
http://tracker.ex.ua/announce
Tracker:
http://tracker.ex.ua:80/announce
Tracker:
udp://tracker.internetwarriors.net:1337/announce
Tracker:
udp://tracker.opentrackr.org:1337/announce
Tracker:
udp://tracker.sktorrent.net:6969/announce
Tracker:
udp://tracker.leechers-paradise.org:6969
Info Hash:
d04e829c2acd9aaf0f724af50c60fa819e38e16f
Creation Date:
Wed, 01 Jun 2016 20:02:48 +0000
This is a Multifile Torrent
Bryce_Courtenay.jpg 3.17 KBs
Humphrey_Bower.jpg 22.08 KBs
Solomon's Song - CD 01.mp3 29.55 MBs
Solomon's Song - CD 02.mp3 29.51 MBs
Solomon's Song - CD 03.mp3 28.86 MBs
Solomon's Song - CD 04.mp3 29.41 MBs
Solomon's Song - CD 05.mp3 28.9 MBs
Solomon's Song - CD 06.mp3 29.47 MBs
Solomon's Song - CD 07.mp3 28.95 MBs
Solomon's Song - CD 08.mp3 28.97 MBs
Solomon's Song - CD 09.mp3 29.38 MBs
Solomon's Song - CD 10.mp3 29.19 MBs
Solomon's Song - CD 11.mp3 28.59 MBs
Solomon's Song - CD 12.mp3 28.87 MBs
Solomon's Song - CD 13.mp3 28.21 MBs
Solomon's Song - CD 14.mp3 29.03 MBs
Solomon's Song - CD 15.mp3 27.55 MBs
Solomon's Song - CD 16.mp3 18.38 MBs
Solomon's Song - CD 17.mp3 16.71 MBs
Solomon's Song Information File.txt 3.85 KBs
Solomons Song.jpg 52.34 KBs
Torrent downloaded from Demonoid.ooo.txt 39 Bytes
Combined File Size:
469.61 MBs
Piece Size:
512 KBs
Torrent Encoding:
UTF-8
Seeds:
43
Peers:
4
Completed Downloads:
362
Torrent Download:
Torrent Free Downloads
Tips:
Sometimes the torrent health info isn't accurate, so you can download the file and check it out or try the following downloads.
Direct Download:
Download Files Now
Tips:
You could try out the alternative usenet.nl client.
High Speed Download:
Unlimited Speed Download
Ads: