Soft Apocalypse - Will McIntosh
Shared by:anansisan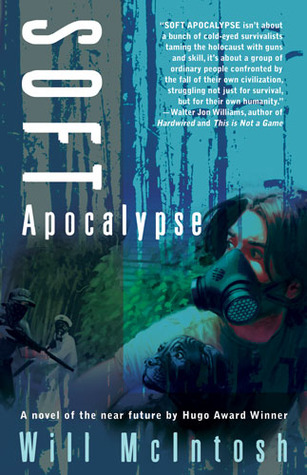 Written by Will McIntosh
Format: MP3
Bitrate: 32 Kbps

In this moving debut from Hugo-winner McIntosh, the prosperous world of 2023 ends not with a bang but with a crackle, the sound of genetically engineered bamboo growing overnight and destroying roads and buildings.

What happens when resources become scarce and society starts to crumble? As the competition for resources pulls America's previously stable society apart, the "New Normal" is a Soft Apocalypse. This is how our world ends; with a whimper instead of a bang.

New social structures and tribal connections spring up across America, as the previous social structures begin to dissolve. Soft Apocalypse follows the journey across the Southeast of atribe of formerly middle class Americans as they struggle to find a place for themselves and their children in a new, dangerous world that still carries the ghostly echoes of their previous lives.
Announce URL:
udp://tracker.coppersurfer.tk:6969
This Torrent also has several backup trackers
Tracker:
udp://tracker.blackunicorn.xyz:6969
Info Hash:
fec89109bc01208762698436652fa7fb46d0984e
Creation Date:
Sun, 17 Apr 2016 05:24:51 +0000
This is a Multifile Torrent
Soft Apocalypse Unabridged Part1.mp3 75.2 MBs
Soft Apocalypse Unabridged Part2.mp3 75.05 MBs
Soft Apocalypse.jpg 51.64 KBs
Soft Apocalypse.txt 898 Bytes
Combined File Size:
150.3 MBs
Piece Size:
128 KBs
Comment:
Torrent Encoding:
UTF-8
Seeds:
44
Peers:
0
Completed Downloads:
204
Torrent Download:
Torrent Free Downloads
Tips:
Sometimes the torrent health info isn't accurate, so you can download the file and check it out or try the following downloads.
Direct Download:
Download Files Now
Tips:
You could try out the alternative usenet.nl client.
High Speed Download:
Unlimited Speed Download
Ads: