Sleepy Head - [Tom Thorne 01] - Mark Billingham
Shared by:OldScotsman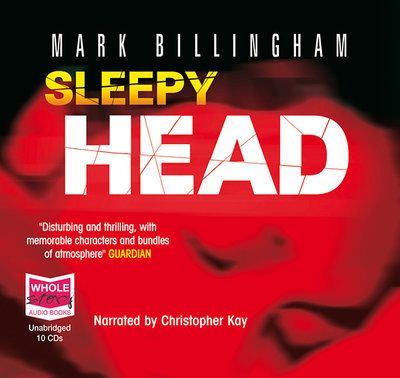 Written by Mark Billingham
Read by Christopher Kay
Format: MP3
Bitrate: 64 Kbps
Unabridged

If you have a request for another book or a Re-Seed send me a Personal Message in the Forum, not in the comments section below.

GENERAL INFORMATION
Book Title:....................Sleepy Head
Series Name:...............Tom Thorne
Series No:....................01
Author:.........................Mark Billingham
Narrator:......................Christopher Kay
Genre:..........................Adventure Crime Thriller

FILE INFORMATION
Source:........................10 CDs
# of MP3 files:..............10
Total Runtime:..............11 Hours 34 Minutes
Encoder:.......................Lame 3.94 using JetAudio
Converted To:...............32 Kb | CBR | 44,100 Hz | Mono
Total Size:.....................159 MB
Converted By:...............OldScotsman
Date Converted:...........14-June-2010
ID3 Tags:......................Includes Image and all info shown on this page (Smart Phone Ready)

ABOUT THE BOOK
It's rare for a young woman to die from a stroke and when three such deaths occur in short order it starts to look like an epidemic Then a sharp pathologist notices traces of benzodiazepine in one of the victim's blood samples and just traceable damage to the ligaments in her neck, and their cause of death is changed from natural to murder.
The police aren't making much progress in their hunt for the killer until he appears to make a mistake: Alison Willetts is found alive and D.I. Tom Thorne believes the murderer has made a mistake, which ought to allow them to get on his tracks. But it was the others who were his mistakes: he doesn't want to take life, he just wants to put people into a state where they cannot move,cannot talk, cannot do anything but think.
When Thorne, helped by the neurologist looking after Alison, starts to realise what he is up against he knows the case is not going to be solved by normal methods - before he can find out who did it he has to understand why he's doing it.

ABOUT THE AUTHOR
Mark Billingham was born and brought up in Birmingham. Having worked for some years as an actor and more recently as a TV writer and stand-up comedian his first crime novel was published in 2001. He has been awarded the 2003 Sherlock Award as the creator of the Best Detective created by a British writer and LAZYBONES won the Theakston's Old Peculier Award for best crime novel of the year. He has also been an award-winning children's writer. Mark lives in North London with his wife and two children.

ABOUT THE READER
Christopher Kay was born in Stockport, Cheshire. After an early start in theatre, both acting and singing, he gravitated towards broadcasting: announcing, news-reading and presenting programmes on radio and TV. He worked extensively for Granada, Yorkshire and BBC1 in the North West. He has eleven broadcasting awards to his credit.

All the above information including the picture are inserted into the ID3 tags on the MP3 files.

Remember, we have uploaded these books just for you because we wish to SHARE them. It is only right therefore, you SHARE them with others, and the only way you can do this, is to keep SEEDING. In other words, don't stop after you have finished the download. Check and make sure your torrent program is set to continue uploading even after the downloading has been completed. A ratio of 2.0 means you are giving back twice what you have received, the book won't die and all our efforts have not been wasted but 5.0 would be outstanding and shows you have really entered into the spirit of what we are about. WE DO OUR BIT AND YOU DO YOUR BIT, sounds fair, doesn't it. If you are new to this and don't understand, type a message at the bottom and if I can't help, I know someone who can.
Announce URL:
udp://9.rarbg.me:2710/announce
This Torrent also has several backup trackers
Tracker:
udp://9.rarbg.me:2710/announce
Tracker:
udp://10.rarbg.com:80/announce
Tracker:
udp://11.rarbg.com/announce
Tracker:
udp://12.rarbg.me:80/announce
Tracker:
http://anisaishuu.de:2710/announce
Tracker:
udp://a.tv.tracker.prq.to:80/announce
Tracker:
http://bigfoot1942.sektori.org:6969/announce
Tracker:
udp://coppersurfer.tk:6969/announce
Tracker:
udp://exodus.desync.com:6969/announce
Tracker:
udp://glotorrents.pw:6969/announce
Tracker:
udp://inferno.demonoid.ooo:3392/announce
Tracker:
http://inferno.demonoid.ph:3389/announce
Tracker:
udp://ipv4.tracker.harry.lu:80/announce
Tracker:
http://mgtracker.org:2710/announce
Tracker:
udp://open.demonii.com:1337/announce
Tracker:
udp://red.tracker.prq.to:80/announce
Tracker:
udp://sugoi.pomf.se:80/announce
Tracker:
udp://t1.pow7.com:80/announce
Tracker:
http://torrent.gresille.org/announce
Tracker:
udp://tpb.tracker.prq.to:80/announce
Tracker:
udp://tracker2.istole.it:80/announce
Tracker:
udp://tracker4.piratux.com:6969/announce
Tracker:
http://tracker.aletorrenty.pl:2710/announce
Tracker:
http://tracker.ccc.de:80/announce
Tracker:
udp://tracker.coppersurfer.tk:6969/announce
Tracker:
http://tracker.ex.ua:80/announce
Tracker:
http://tracker.ex.ua/announce
Tracker:
udp://tracker.internetwarriors.net:1337/announce
Tracker:
udp://tracker.istole.it:80/announce
Tracker:
udp://tracker.openbittorrent.com:80/announce
Tracker:
udp://tracker.opentrackr.org:1337/announce
Tracker:
udp://tracker.prq.to/announce
Tracker:
udp://tracker.prq.to:80/announce
Tracker:
udp://tracker.publicbt.com:80/announce
Tracker:
http://tracker.pubt.net:2710/announce
Tracker:
udp://tracker.sktorrent.net:6969/announce
Tracker:
udp://tracker.token.ro:80/announce
Tracker:
udp://tv.tracker.prq.to:80/announce
Info Hash:
3b2bb5300bdd0d13c1d6821a924be96cac1e880f
Creation Date:
Mon, 01 Feb 2016 18:14:15 +0000
This is a Multifile Torrent
Christopher_Kay.jpg 13.98 KBs
Mark_Billingham.jpg 6.04 KBs
Sleepy Head - CD 01.mp3 17.01 MBs
Sleepy Head - CD 02.mp3 15.85 MBs
Sleepy Head - CD 03.mp3 15.86 MBs
Sleepy Head - CD 04.mp3 15.37 MBs
Sleepy Head - CD 05.mp3 16.97 MBs
Sleepy Head - CD 06.mp3 16.32 MBs
Sleepy Head - CD 07.mp3 16.35 MBs
Sleepy Head - CD 08.mp3 16.55 MBs
Sleepy Head - CD 09.mp3 14.23 MBs
Sleepy Head - CD 10.mp3 15.27 MBs
Sleepy Head information File.txt 2.44 KBs
Sleepy_Head.jpg 40.14 KBs
Combined File Size:
159.84 MBs
Piece Size:
256 KBs
Torrent Encoding:
UTF-8
Seeds:
29
Peers:
10
Completed Downloads:
161
Torrent Download:
Torrent Free Downloads
Tips:
Sometimes the torrent health info isn't accurate, so you can download the file and check it out or try the following downloads.
Direct Download:
Download Files Now
Tips:
You could try out the alternative usenet.nl client.
High Speed Download:
Unlimited Speed Download
Ads: