Silent Kill - [Extreme 04] - Chris Ryan
Shared by:OldScotsman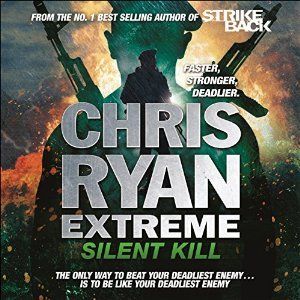 Written by Chris Ryan
Read by Jamie Parker
Format: MP3
Bitrate: 64 Kbps
Unabridged

If you have a request for another book or a Re-Seed send me a Personal Message in the Forum, not in the comments section below.

GENERAL INFORMATION
Book Title:....................Silent Kill
Series Name:...............Extreme
Series No:....................04 Enforcer
Author:.........................Chris Ryan
Narrator:......................Jamie Parker
Genre:..........................Adventure Thriller
Publisher:.....................Hodder & Stoughton

FILE INFORMATION
Source:........................1 eDownloaded DRM protected (Digital Rights Management) 64 Kb .aax File
# of MP3 files:..............11 Files carefully created averaging about one hour duration each
Total Runtime:..............11 Hours 2 Minutes
Encoder:.......................Fraunhofer [FhG] (Guess)
Converted To:...............64 Kb | CBR | 44,100 Hz | Mono (with DRM Removed)
Total Size:.....................303 MB
Converted By:...............OldScotsman
Date Converted:...........4-February-2015
ID3 Tags:......................Includes Image and all info shown on this page (Smart Phone Ready)

ABOUT THE BOOK
The Chris Ryan Extreme books take you even further into the heart of the mission with more extreme action, more extreme language and more extreme pace. Like Call of Duty or Medal of Honour you'll feel part of the team.
Northern Ireland, 1993. For high-flying MI5 officer Avery Chance the real war has only just begun. When Chance is abducted by the IRA's notorious Nutting Squad, her hopes lie in the hands of a young SAS recruit who must risk everything to bring her home.
Twenty years after his act of self-sacrifice in Belfast ex-SAS legend John Bald is a scarred shadow of his former self. But when a face from the past appears and rescues him from deep trouble, Bald is offered one last shot at redemption. His target is Kurt Pretorius, a ruthless mercenary operating deep in the wilds of war-ravaged Somali. In a world where rogue mercenaries operate beyond the reach of the law, Kurt Pretorius has transformed himself into a god.
It is up to Bald to stop Pretorius before he turns Somalia into a terrorist haven. But Bald quickly finds himself sucked into a twisted game of survival, where the stakes could not be higher - and the price of failure is his life...
With time running out, Bald must kill Pretorius before he brings down everyone around him. It's a mission Bald was born to do. Because sometimes, the only way to beat your deadliest enemy...is to be like your deadliest enemy.

ABOUT THE AUTHOR
Chris Ryan was born near Newcastle in 1961. He joined the SAS in 1984. During his ten years he was involved in overt and covert operations and was also Sniper team commander of the anti-terrorist team. During the Gulf War, Chris was the only member of Bravo Two Zero, an eight-man patrol, to escape from Iraq, of which three colleagues were killed and four captured. It was the longest escape and evasion in the history of the SAS. For this he was awarded the Military Medal. For his last two years he was selecting and training potential recruits for the SAS.
He left the SAS in 1994 and now lives in America. In 1995, wrote about his experiences in the Gulf War in The One That Got Away. He has since gone on to write a number of best-selling novels such as Land of Fire, Stand By, Stand By and Zero Option.

ABOUT THE READER
Jamie Parker was born in 1979 in Middlesbrough, England. He graduated in 2002 from the Royal Academy of Dramatic Arts.


All the above information including the picture are inserted into the ID3 tags on the MP3 files.

Remember, we have uploaded these books just for you because we wish to SHARE them. It is only right therefore, you SHARE them with others, and the only way you can do this, is to keep SEEDING. In other words, don't stop after you have finished the download. Check and make sure your torrent program is set to continue uploading even after the downloading has been completed. A ratio of 2.0 means you are giving back twice what you have received, the book won't die and all our efforts have not been wasted but 5.0 would be outstanding and shows you have really entered into the spirit of what we are about. WE DO OUR BIT AND YOU DO YOUR BIT, sounds fair, doesn't it. If you are new to this and don't understand, type a message at the bottom and if I can't help, I know someone who can.
Announce URL:
udp://inferno.demonoid.ph:3389/announce
This Torrent also has several backup trackers
Tracker:
udp://inferno.demonoid.ph:3389/announce
Tracker:
http://inferno.demonoid.ph:3389/announce
Tracker:
http://anisaishuu.de:2710/announce
Tracker:
http://tracker.ex.ua:80/announce
Tracker:
http://mgtracker.org:2710/announce
Tracker:
udp://tracker.publicbt.com:80/announce
Tracker:
udp://open.demonii.com:1337/announce
Tracker:
udp://tracker.openbittorrent.com:80/announce
Tracker:
udp://red.tracker.prq.to:80/announce
Tracker:
udp://vip.tracker.prq.to:80/announce
Tracker:
udp://open.demonii.com:1337/announce
Tracker:
udp://11.rarbg.com/announce
Tracker:
udp://tracker.prq.to:80/announce
Tracker:
udp://t1.pow7.com:80/announce
Tracker:
udp://12.rarbg.me:80/announce
Tracker:
udp://tracker2.istole.it:80/announce
Tracker:
udp://tv.tracker.prq.to:80/announce
Tracker:
udp://tpb.tracker.prq.to:80/announce
Tracker:
udp://a.tv.tracker.prq.to:80/announce
Tracker:
udp://tracker.ex.ua:80/announce
Tracker:
udp://ipv4.tracker.harry.lu:80/announce
Tracker:
udp://tracker.prq.to/announce
Tracker:
udp://10.rarbg.com:80/announce
Tracker:
udp://tracker.istole.it:80/announce
Tracker:
udp://tracker.token.ro:80/announce
Tracker:
udp://coppersurfer.tk:6969/announce
Info Hash:
88fbb9f041ea54fedb5bcdcbbcd47459ac120081
Creation Date:
Thu, 05 Feb 2015 09:24:15 +0000
This is a Multifile Torrent
Enforcer - Part 11.mp3 771 KBs
Enforcer - Part 10.mp3 27.69 MBs
Enforcer - Part 09.mp3 31.7 MBs
Enforcer Information File.txt 3.35 KBs
Enforcer.jpg 34.13 KBs
Torrent downloaded from Demonoid.pw.txt 39 Bytes
Jamie Parker.jpg 27.57 KBs
Enforcer - Part 08.mp3 32.38 MBs
Enforcer - Part 07.mp3 27.64 MBs
Enforcer - Part 02.mp3 31.81 MBs
Enforcer - Part 01.mp3 33.49 MBs
Enforcer - Part 03.mp3 29.63 MBs
Enforcer - Part 04.mp3 27.95 MBs
Enforcer - Part 06.mp3 28.17 MBs
Enforcer - Part 05.mp3 32.72 MBs
Chris Ryan.jpg 22.65 KBs
Combined File Size:
304.01 MBs
Piece Size:
256 KBs
Seeds:
21
Peers:
8
Completed Downloads:
127
Torrent Download:
Torrent Free Downloads
Tips:
Sometimes the torrent health info isn't accurate, so you can download the file and check it out or try the following downloads.
Direct Download:
Download Files Now
Tips:
You could try out the alternative usenet.nl client.
High Speed Download:
Unlimited Speed Download
Ads: