[Shardlake 04] ~ Revelation - C.J. Sansom
Shared by:OldScotsman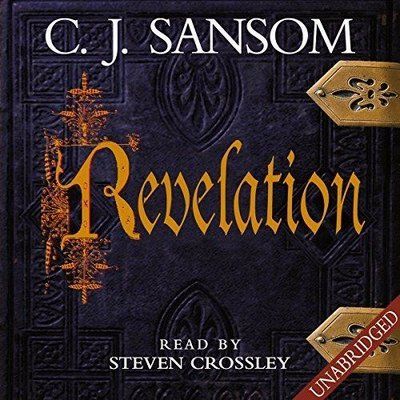 Written by C.J. Sansom
Read by Steven Crossley
Format: MP3
Bitrate: 64 Kbps
Unabridged

GENERAL INFORMATION
Book Title:....................Revelation
Series Name:...............Shardlake
Series No:....................04
Author:.........................C.J. Sansom
Narrator:......................Steven Crossley
Genre:..........................Historical Fiction
Publisher:.....................MacMillan Audio

FILE INFORMATION
Source:........................eDownloaded DRM protected (Digital Rights Management) 64 Kb File
# of MP3 files:..............47 Chapterised Files
Total Runtime:..............21 Hours 2 Minutes
Encoder:.......................Lame 3.99r
Converted To:...............64 Kb | CBR | 44,100 Hz | Mono with DRM Removed
Total Size:.....................581 MB
Converted By:...............OldScotsman
Date Converted:...........11-May-2015
ID3 Tags:......................Includes Image and all info shown on this page (Smart Phone Ready)

ABOUT THE BOOK
Spring, 1543. King Henry VIII is wooing Lady Catherine Parr, whom he wants for his sixth wife. But this time the object of his affections is resisting. Archbishop Cranmer and the embattled Protestant faction at court are watching keenly, for Lady Catherine is known to have reformist sympathies.
Matthew Shardlake, meanwhile, is working on the case of a teenage boy, a religious maniac locked in the Bedlam hospital for the insane. Should he be released to his parents, when his terrifying actions could lead to him being burned as a heretic? When an old friend is horrifically murdered Shardlake promises his widow, for whom he has long had complicated feelings, to bring the killer to justice. His search leads him to both Cranmer and Catherine Parr - and with the dark prophecies of the Book of Revelation.
As London's Bishop Bonner prepares a purge of Protestants Shardlake, together with his assistant, Jack Barak, and his friend, Guy Malton, follow the trail of a series of horrific murders that shake them to the core, and which are already bringing frenzied talk of witchcraft and a demonic possession - for what else would the Tudor mind make of a serial killer . . .?

ABOUT THE AUTHOR
C.J. Sansom came to prominence with his series set in the reign of Henry VIII in the 16th century, whose main character is the hunchbacked lawyer Matthew Shardlake. Shardlake works on commission initially from Thomas Cromwell in Dissolution and Dark Fire and then Thomas Cranmer in Sovereign.
His most recent novel, Winter in Madrid, is a spy thriller set in Spain in 1940.
Sansom was educated at the University of Birmingham, where he took a BA and then a PhD in history. After working in a variety of jobs, he decided to retrain as a solicitor. He practised for a while in Sussex as a lawyer for the disadvantaged, then he quit in order to work full-time as a writer.

ABOUT THE READER
Steven Crossley is an English actor and graduated from the Royal Academy of Dramatic Art in London and has since established an acting career on both sides of the Atlantic in theatre, TV, film and radio; performing with distinguished Theatre companies in New York and London. A highly experienced narrator, he has won a number of prestigious awards for his powerful performances.
His audio book performances cover an eclectic range of subjects in both fiction and non-fiction, from thrillers, mysteries, classics and histories to children's fantasy and biographies. "From recording books, I am constantly reminding myself I am speaking to somebody," he comments. "If you're on stage, you have a tendency to talk at somebody. When I'm in the studio, I remind myself to communicate with somebody. Hopefully that's fed my acting."
His memories of people, their mannerisms, and ways of speaking have proven to be invaluable references for him in the studio. "When I'm creating a character, I think of people I know. I don't impersonate them, I just think of them while I'm reading. It helps to have a clear image of the character, and that image is always aided by the writer.


All the above information including the picture are inserted into the ID3 tags on the MP3 files.

Remember, we have uploaded these books just for you because we wish to SHARE them. It is only right therefore, you SHARE them with others, and the only way you can do this, is to keep SEEDING. In other words, don't stop after you have finished the download. Check and make sure your torrent program is set to continue uploading even after the downloading has been completed. A ratio of 2.0 means you are giving back twice what you have received, the book won't die and all our efforts have not been wasted but 5.0 would be outstanding and shows you have really entered into the spirit of what we are about. WE DO OUR BIT AND YOU DO YOUR BIT, sounds fair, doesn't it. If you are new to this and don't understand, type a message at the bottom and if I can't help, I know someone who can.

Announce URL:
udp://inferno.demonoid.ooo:3392/announce
This Torrent also has several backup trackers
Tracker:
udp://inferno.demonoid.ooo:3392/announce
Tracker:
udp://9.rarbg.me:2710/announce
Tracker:
udp://tracker.coppersurfer.tk:6969/announce
Tracker:
http://torrent.gresille.org/announce
Tracker:
http://tracker.aletorrenty.pl:2710/announce
Tracker:
http://tracker.ex.ua/announce
Tracker:
http://tracker.ex.ua:80/announce
Tracker:
udp://tracker.internetwarriors.net:1337/announce
Tracker:
udp://tracker.opentrackr.org:1337/announce
Tracker:
udp://tracker.sktorrent.net:6969/announce
Tracker:
udp://tracker.leechers-paradise.org:6969
Info Hash:
f4658ec9936ac157742189641dacb20db8ab8715
Creation Date:
Sat, 07 May 2016 16:54:22 +0000
This is a Multifile Torrent
C.J._Sansom.jpg 5.94 KBs
Revelation - 001.mp3 15.5 MBs
Revelation - 002.mp3 15.86 MBs
Revelation - 003.mp3 15.3 MBs
Revelation - 004.mp3 15.43 MBs
Revelation - 005.mp3 8.88 MBs
Revelation - 006.mp3 15.4 MBs
Revelation - 007.mp3 19.43 MBs
Revelation - 008.mp3 11.18 MBs
Revelation - 009.mp3 14.84 MBs
Revelation - 010.mp3 8.81 MBs
Revelation - 011.mp3 10.58 MBs
Revelation - 012.mp3 14.13 MBs
Revelation - 013.mp3 13.21 MBs
Revelation - 014.mp3 11.31 MBs
Revelation - 015.mp3 13.23 MBs
Revelation - 016.mp3 10.11 MBs
Revelation - 017.mp3 9.92 MBs
Revelation - 018.mp3 12.01 MBs
Revelation - 019.mp3 11.74 MBs
Revelation - 020.mp3 14.68 MBs
Revelation - 021.mp3 8.19 MBs
Revelation - 022.mp3 13.19 MBs
Revelation - 023.mp3 10.28 MBs
Revelation - 024.mp3 16.74 MBs
Revelation - 025.mp3 9.95 MBs
Revelation - 026.mp3 13.6 MBs
Revelation - 027.mp3 12.66 MBs
Revelation - 028.mp3 15.99 MBs
Revelation - 029.mp3 12.1 MBs
Revelation - 030.mp3 18.29 MBs
Revelation - 031.mp3 12.62 MBs
Revelation - 032.mp3 16.63 MBs
Revelation - 033.mp3 7.42 MBs
Revelation - 034.mp3 15.81 MBs
Revelation - 035.mp3 5.56 MBs
Revelation - 036.mp3 13 MBs
Revelation - 037.mp3 7.78 MBs
Revelation - 038.mp3 7.81 MBs
Revelation - 039.mp3 16.71 MBs
Revelation - 040.mp3 7 MBs
Revelation - 041.mp3 3.83 MBs
Revelation - 042.mp3 18.54 MBs
Revelation - 043.mp3 11.08 MBs
Revelation - 044.mp3 11.4 MBs
Revelation - 045.mp3 11.54 MBs
Revelation - 046.mp3 12.13 MBs
Revelation - 047.mp3 9.59 MBs
Revelation Information File.txt 3.86 KBs
Revelation.jpg 53.5 KBs
Steven_Crossley.jpg 4.38 KBs
Torrent downloaded from Demonoid.ooo.txt 39 Bytes
Combined File Size:
581.03 MBs
Piece Size:
1 MB
Torrent Encoding:
UTF-8
Seeds:
45
Peers:
0
Completed Downloads:
444
Torrent Download:
Torrent Free Downloads
Tips:
Sometimes the torrent health info isn't accurate, so you can download the file and check it out or try the following downloads.
Direct Download:
Download Files Now
Tips:
You could try out the alternative usenet.nl client.
High Speed Download:
Unlimited Speed Download
Ads: