See How They Run - Tom Bale
Shared by:OldScotsman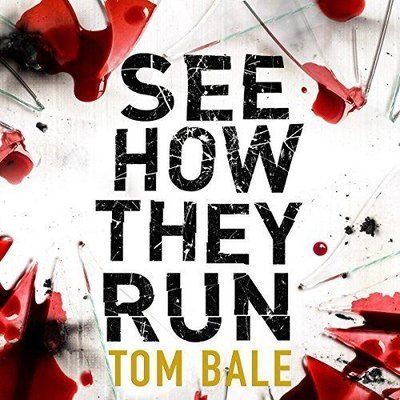 Written by Tom Bale
Read by Kris Dyer
Format: MP3
Bitrate: 64 Kbps
Unabridged

GENERAL INFORMATION
Book Title:....................See How They Run
Author:.........................Tom Bale
Narrator:......................Kris Dyer
Genre:..........................Thriller

FILE INFORMATION
Source:........................eDownloaded DRM protected (Digital Rights Management) 64 Kb file
# of MP3 files:..............85 Chaperised Files
Total Runtime:..............13 Hours 23 Minutes
Encoder:.......................Lame 3.99r
Converted To:...............64 Kb | CBR | 44,100 Hz | Mono with DRM removed
Total Size:.....................371 MB
Converted By:...............OldScotsman
Date Converted:...........7-May-2016
ID3 Tags:......................Includes Image and all info shown on this page (Smart Phone Ready)

ABOUT THE BOOK
How far would you go to save your family?
In the dead of night, new parents Alice and Harry French are plunged into their worst nightmare when they wake to find masked men in their bedroom. Men ruthless enough to threaten their baby daughter, Evie. This is no burglary gone wrong. The intruders know who they're looking for – a man called Edward Renshaw.
And they are prepared to kill to get to him.
When the men leave empty handed, little do Alice and Harry realise that their nightmare is just beginning. Is it a case of mistaken identity? Who is Renshaw? And what is he hiding? One thing is clear – they already know too much.
As Alice and Harry are separated in the run for their lives, there is no time for breathe in their fight to be reunited. And with their attackers closing in, there is only a choice: Stay alive or don't.

ABOUT THE AUTHOR
Tom Bale has had a variety of jobs including retail assistant, claims negotiator and project manager, but none was as exhausting as the several years he spent as a househusband with two pre-school children. Tom has been writing since the age of seven, and completed his first novel at fifteen. After twenty years and hundreds of rejection slips he landed an agent and a book deal with Random House, and he now writes full-time.
He lives in Brighton with his family and swims in the sea as often as the weather permits. He also enjoys walking, cycling and reading, and he probably spends far too much time on the internet.

ABOUT THE READER
Kris Dyer is an English actor and writer and has created and co-wrote three series of the BBC Radio 2 sitcom 'On the Blog' starring Caroline Quentin, Andy Taylor and Simon Greenall.
Kris has written and performed comedy all over the UK including three runs at the Edinburgh Fringe Festival.


All the above information including the Image are inserted into the ID3 tags on the MP3 files.

Remember, we have uploaded these books just for you because we wish to SHARE them. It is only right therefore, you SHARE them with others, and the only way you can do this, is to keep SEEDING. In other words, don't stop after you have finished the download. Check and make sure your torrent program is set to continue uploading even after the downloading has been completed. A ratio of 2.0 means you are giving back twice what you have received, the book won't die and all our efforts have not been wasted but 5.0 would be outstanding and shows you have really entered into the spirit of what we are about. WE DO OUR BIT AND YOU DO YOUR BIT, sounds fair, doesn't it. If you are new to this and don't understand, send me a Personal Message in the Forum, not in the comments section below. If I can't help, I know someone who can.

Announce URL:
udp://inferno.demonoid.ooo:3392/announce
This Torrent also has several backup trackers
Tracker:
udp://inferno.demonoid.ooo:3392/announce
Tracker:
udp://9.rarbg.me:2710/announce
Tracker:
udp://tracker.coppersurfer.tk:6969/announce
Tracker:
http://torrent.gresille.org/announce
Tracker:
http://tracker.aletorrenty.pl:2710/announce
Tracker:
http://tracker.ex.ua/announce
Tracker:
http://tracker.ex.ua:80/announce
Tracker:
udp://tracker.internetwarriors.net:1337/announce
Tracker:
udp://tracker.opentrackr.org:1337/announce
Tracker:
udp://tracker.sktorrent.net:6969/announce
Tracker:
udp://tracker.leechers-paradise.org:6969
Info Hash:
8957c4f36cd300a2c5c9e4b08f29217334dff546
Creation Date:
Sat, 07 May 2016 09:25:48 +0000
This is a Multifile Torrent
Kris_Dyer.jpg 4.37 KBs
See How They Run - 001.mp3 3.99 MBs
See How They Run - 002.mp3 3.23 MBs
See How They Run - 003.mp3 6.85 MBs
See How They Run - 004.mp3 4.32 MBs
See How They Run - 005.mp3 5.17 MBs
See How They Run - 006.mp3 6.03 MBs
See How They Run - 007.mp3 6 MBs
See How They Run - 008.mp3 5.38 MBs
See How They Run - 009.mp3 5.2 MBs
See How They Run - 010.mp3 4.73 MBs
See How They Run - 011.mp3 5.03 MBs
See How They Run - 012.mp3 3.91 MBs
See How They Run - 013.mp3 5.62 MBs
See How They Run - 014.mp3 1.46 MBs
See How They Run - 015.mp3 4.33 MBs
See How They Run - 016.mp3 3.04 MBs
See How They Run - 017.mp3 3.01 MBs
See How They Run - 018.mp3 5.53 MBs
See How They Run - 019.mp3 3.95 MBs
See How They Run - 020.mp3 2.58 MBs
See How They Run - 021.mp3 5.74 MBs
See How They Run - 022.mp3 6.12 MBs
See How They Run - 023.mp3 3.77 MBs
See How They Run - 024.mp3 5.75 MBs
See How They Run - 025.mp3 5.86 MBs
See How They Run - 026.mp3 4.25 MBs
See How They Run - 027.mp3 5.64 MBs
See How They Run - 028.mp3 4.12 MBs
See How They Run - 029.mp3 5.55 MBs
See How They Run - 030.mp3 3.63 MBs
See How They Run - 031.mp3 7.28 MBs
See How They Run - 032.mp3 4.42 MBs
See How They Run - 033.mp3 5.88 MBs
See How They Run - 034.mp3 4.29 MBs
See How They Run - 035.mp3 3.59 MBs
See How They Run - 036.mp3 4.94 MBs
See How They Run - 037.mp3 5.11 MBs
See How They Run - 038.mp3 5.05 MBs
See How They Run - 039.mp3 2.86 MBs
See How They Run - 040.mp3 2.55 MBs
See How They Run - 041.mp3 3.37 MBs
See How They Run - 042.mp3 5.43 MBs
See How They Run - 043.mp3 4.51 MBs
See How They Run - 044.mp3 3.42 MBs
See How They Run - 045.mp3 4.93 MBs
See How They Run - 046.mp3 3.81 MBs
See How They Run - 047.mp3 4.38 MBs
See How They Run - 048.mp3 4.81 MBs
See How They Run - 049.mp3 4.05 MBs
See How They Run - 050.mp3 3.41 MBs
See How They Run - 051.mp3 4.39 MBs
See How They Run - 052.mp3 3.69 MBs
See How They Run - 053.mp3 3.88 MBs
See How They Run - 054.mp3 2.21 MBs
See How They Run - 055.mp3 2.4 MBs
See How They Run - 056.mp3 4 MBs
See How They Run - 057.mp3 4.5 MBs
See How They Run - 058.mp3 4.14 MBs
See How They Run - 059.mp3 5.69 MBs
See How They Run - 060.mp3 5.15 MBs
See How They Run - 061.mp3 5.16 MBs
See How They Run - 062.mp3 4.85 MBs
See How They Run - 063.mp3 5.16 MBs
See How They Run - 064.mp3 4.09 MBs
See How They Run - 065.mp3 4.09 MBs
See How They Run - 066.mp3 2.33 MBs
See How They Run - 067.mp3 4.77 MBs
See How They Run - 068.mp3 6.12 MBs
See How They Run - 069.mp3 3.13 MBs
See How They Run - 070.mp3 4.25 MBs
See How They Run - 071.mp3 3.52 MBs
See How They Run - 072.mp3 5.42 MBs
See How They Run - 073.mp3 3.73 MBs
See How They Run - 074.mp3 5.76 MBs
See How They Run - 075.mp3 2.68 MBs
See How They Run - 076.mp3 5.38 MBs
See How They Run - 077.mp3 3.14 MBs
See How They Run - 078.mp3 3.58 MBs
See How They Run - 079.mp3 4.57 MBs
See How They Run - 080.mp3 4.35 MBs
See How They Run - 081.mp3 1.88 MBs
See How They Run - 082.mp3 2.88 MBs
See How They Run - 083.mp3 5 MBs
See How They Run - 084.mp3 2.44 MBs
See How They Run - 085.mp3 5.29 MBs
See How They Run Information File.txt 2.51 KBs
See_How_They_Run.jpg 50.28 KBs
Tom_Bale.jpg 4.48 KBs
Torrent downloaded from Demonoid.ooo.txt 39 Bytes
Combined File Size:
371.57 MBs
Piece Size:
512 KBs
Torrent Encoding:
UTF-8
Seeds:
33
Peers:
6
Completed Downloads:
422
Torrent Download:
Torrent Free Downloads
Tips:
Sometimes the torrent health info isn't accurate, so you can download the file and check it out or try the following downloads.
Direct Download:
Download Files Now
Tips:
You could try out the alternative usenet.nl client.
High Speed Download:
Unlimited Speed Download
Ads: