Rob Roy - [Waverley Novels 04] - Sir Walter Scott
Shared by:OldScotsman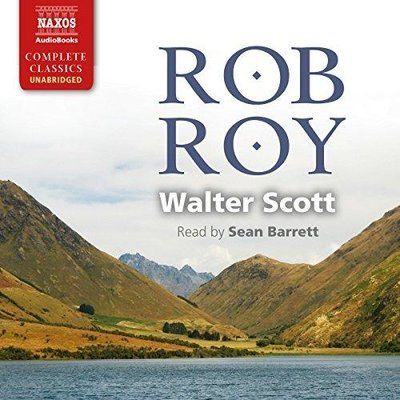 Written by Sir Walter Scott
Read by Sean Barrett
Format: MP3
Bitrate: 64 Kbps
Unabridged

GENERAL INFORMATION
Book Title:....................Rob Roy
Series Name:...............Waverley Novels
Series No:....................04
Author:........................Sir Walter Scott
Narrator:......................Sean Barrett
Genre:..........................Literary

FILE INFORMATION
Source:........................1 eDownloaded DRM protected (Digital Rights Management) 64 Kb file
# of MP3 files:..............40 Chapterised Files
Total Runtime:..............16 Hours 30 Minutes
Encoder:.......................Lame 3.99
Converted To:...............64 Kb | CBR | 44,100 Hz | Mono with DRM removed
Total Size:.....................455 MB
Converted By:...............OldScotsman
Date Converted:...........20-January-2016
ID3 Tags:......................Includes Image and all info shown on this page (Smart Phone Ready)

ABOUT THE BOOK
Rob Roy is a captivating novel of chivalry and romance set in the Scottish Highlands of the 18th century.
After rejecting the life his father has laid out for him, Frank Osbaldistone is sent to the North of England to live with his Uncle, where he is to repent his sins. However, when his father's wealth and reputation are threatened, he is drawn to the Scottish Highlands, where he must retrieve a set of stolen documents. It is here that he is pulled into a number of skirmishes relating to the Jacobite uprising of 1715, and where his path frequently crosses with the mysterious maverick outlaw known as Rob Roy....
Scott's portrayal of Scotland is remarkable in its vivid and evocative panorama of the highlands, and his insightful exploration of social, economic, and historic themes.

ABOUT THE AUTHOR
Sir Walter Scott, 1st Baronet, FRSE was born in Edinburgh on the 15 August 1771 and died on the 21 September 1832 was a Scottish historical novelist, playwright and poet with many contemporary readers in Europe, Australia, and North America.
Scott's novels and poetry are still read, and many of his works remain classics of both English-language literature and of Scottish literature. Famous titles include Ivanhoe, Rob Roy, Old Mortality, The Lady of the Lake, Waverley, The Heart of Midlothian and The Bride of Lammermoor.
Although primarily remembered for his extensive literary works and his political engagement, Scott was an advocate, judge and legal administrator by profession, and throughout his career combined his writing and editing work with his daily occupation as Clerk of Session and Sheriff-Depute of Selkirkshire.
A prominent member of the Tory establishment in Edinburgh, Scott was an active member of the Highland Society and served a long term as President of the Royal Society of Edinburgh (1820–32).

ABOUT THE READER
Sean Barrett was born May 4, 1940 in Hampstead, London and began his acting career as a child for the BBC and has since made numerous television appearances including roles in Z Cars, Minder, Tales of the Unexpected and Father Ted. He played alongside Noel Coward in the West End and has had film parts in War and Peace, Dunkirk and Sons and Lovers. Sean Barrett is fast becoming the contemporary voice of Samuel Beckett on audiobook. After decades of proving himself one of the most versatile of London-based readers – despite a natural Irish accent – with a range of books from Jack Higgins and William Trevor to Robert Graves and Umberto Eco's The Name of the Rose, Barrett has turned to Beckett.


All the above information including the picture are inserted into the ID3 tags on the MP3 files.

Remember, we have uploaded these books just for you because we wish to SHARE them. It is only right therefore, you SHARE them with others, and the only way you can do this, is to keep SEEDING. In other words, don't stop after you have finished the download. Check and make sure your torrent program is set to continue uploading even after the downloading has been completed. A ratio of 2.0 means you are giving back twice what you have received, the book won't die and all our efforts have not been wasted but 5.0 would be outstanding and shows you have really entered into the spirit of what we are about. WE DO OUR BIT AND YOU DO YOUR BIT, sounds fair, doesn't it. If you are new to this and don't understand, type a message at the bottom and if I can't help, I know someone who can.
Announce URL:
udp://9.rarbg.me:2710/announce
This Torrent also has several backup trackers
Tracker:
udp://9.rarbg.me:2710/announce
Tracker:
udp://10.rarbg.com:80/announce
Tracker:
udp://11.rarbg.com/announce
Tracker:
udp://12.rarbg.me:80/announce
Tracker:
http://anisaishuu.de:2710/announce
Tracker:
udp://a.tv.tracker.prq.to:80/announce
Tracker:
http://bigfoot1942.sektori.org:6969/announce
Tracker:
udp://coppersurfer.tk:6969/announce
Tracker:
udp://exodus.desync.com:6969/announce
Tracker:
udp://glotorrents.pw:6969/announce
Tracker:
udp://inferno.demonoid.ooo:3392/announce
Tracker:
http://inferno.demonoid.ph:3389/announce
Tracker:
udp://ipv4.tracker.harry.lu:80/announce
Tracker:
http://mgtracker.org:2710/announce
Tracker:
udp://open.demonii.com:1337/announce
Tracker:
udp://red.tracker.prq.to:80/announce
Tracker:
udp://sugoi.pomf.se:80/announce
Tracker:
udp://t1.pow7.com:80/announce
Tracker:
http://torrent.gresille.org/announce
Tracker:
udp://tpb.tracker.prq.to:80/announce
Tracker:
udp://tracker2.istole.it:80/announce
Tracker:
udp://tracker4.piratux.com:6969/announce
Tracker:
http://tracker.aletorrenty.pl:2710/announce
Tracker:
http://tracker.ccc.de:80/announce
Tracker:
udp://tracker.coppersurfer.tk:6969/announce
Tracker:
http://tracker.ex.ua:80/announce
Tracker:
http://tracker.ex.ua/announce
Tracker:
udp://tracker.internetwarriors.net:1337/announce
Tracker:
udp://tracker.istole.it:80/announce
Tracker:
udp://tracker.openbittorrent.com:80/announce
Tracker:
udp://tracker.opentrackr.org:1337/announce
Tracker:
udp://tracker.prq.to/announce
Tracker:
udp://tracker.prq.to:80/announce
Tracker:
udp://tracker.publicbt.com:80/announce
Tracker:
http://tracker.pubt.net:2710/announce
Tracker:
udp://tracker.sktorrent.net:6969/announce
Tracker:
udp://tracker.token.ro:80/announce
Tracker:
udp://tv.tracker.prq.to:80/announce
Info Hash:
3c43a8f6ed4662022cff3d8470d747de0c455153
Creation Date:
Wed, 20 Jan 2016 18:05:11 +0000
This is a Multifile Torrent
Rob Roy - 001.mp3 10.19 MBs
Rob Roy - 002.mp3 13.58 MBs
Rob Roy - 003.mp3 7.54 MBs
Rob Roy - 004.mp3 9.93 MBs
Rob Roy - 005.mp3 10.03 MBs
Rob Roy - 006.mp3 13.17 MBs
Rob Roy - 007.mp3 10.36 MBs
Rob Roy - 008.mp3 12.7 MBs
Rob Roy - 009.mp3 15.18 MBs
Rob Roy - 010.mp3 12.64 MBs
Rob Roy - 011.mp3 10.08 MBs
Rob Roy - 012.mp3 9.4 MBs
Rob Roy - 013.mp3 13.06 MBs
Rob Roy - 014.mp3 13.49 MBs
Rob Roy - 015.mp3 6.66 MBs
Rob Roy - 016.mp3 7.56 MBs
Rob Roy - 017.mp3 11.21 MBs
Rob Roy - 018.mp3 12.24 MBs
Rob Roy - 019.mp3 7.08 MBs
Rob Roy - 020.mp3 9.62 MBs
Rob Roy - 021.mp3 10.79 MBs
Rob Roy - 022.mp3 13.23 MBs
Rob Roy - 023.mp3 11.32 MBs
Rob Roy - 024.mp3 7.35 MBs
Rob Roy - 025.mp3 9.79 MBs
Rob Roy - 026.mp3 18.95 MBs
Rob Roy - 027.mp3 9.22 MBs
Rob Roy - 028.mp3 15.13 MBs
Rob Roy - 029.mp3 10.36 MBs
Rob Roy - 030.mp3 14.71 MBs
Rob Roy - 031.mp3 15.1 MBs
Rob Roy - 032.mp3 13.53 MBs
Rob Roy - 033.mp3 10.56 MBs
Rob Roy - 034.mp3 17.38 MBs
Rob Roy - 035.mp3 14 MBs
Rob Roy - 036.mp3 9.6 MBs
Rob Roy - 037.mp3 12.26 MBs
Rob Roy - 038.mp3 10.76 MBs
Rob Roy - 039.mp3 13.59 MBs
Rob Roy - 040.mp3 2.13 MBs
Rob Roy Information File.txt 3.33 KBs
Rob_Roy.jpg 41.01 KBs
Sean_Barrett.jpg 12.37 KBs
Sir_Walter_Scott.jpg 5.54 KBs
Combined File Size:
455.54 MBs
Piece Size:
512 KBs
Torrent Encoding:
UTF-8
Seeds:
42
Peers:
4
Completed Downloads:
183
Torrent Download:
Torrent Free Downloads
Tips:
Sometimes the torrent health info isn't accurate, so you can download the file and check it out or try the following downloads.
Direct Download:
Download Files Now
Tips:
You could try out the alternative usenet.nl client.
High Speed Download:
Unlimited Speed Download
Ads: