[Payne and Jones 03] - Sign Of The Cross - Chris Kuzneski
Shared by:OldScotsman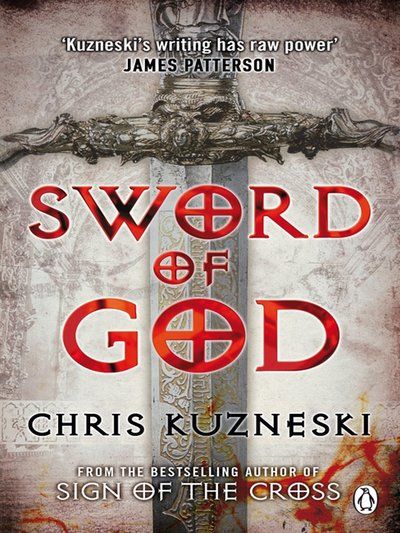 Written by Chris Kuzneski
Read by Dick Hill
Format: MP3
Bitrate: 48 Kbps
Unabridged

If you have a request for another book or a Re-Seed send me a Personal Message in the Forum, not in the comments section below.

GENERAL INFORMATION
Book Title:....................Sword of God
Series Name:................Payne and Jones
Series No:....................03
Author:.........................Chris Kuzneski
Narrator:......................Dick Hill
Genre:..........................Adventure Thriller

FILE INFORMATION
Source:........................eDownloaded 48 Kb File
# of MP3 files:..............10
Total Runtime:..............10 Hours 31 Minutes
Encoder:.......................Fraunhofer [FhG] (Guess)
Converted To:...............48 Kb | CBR | 22,000 Hz | Stereo
Total Size:.....................217 MB
Converted By:...............OldScotsman but unknown original downloader
Date Converted:...........10-June-2016
ID3 Tags:......................Includes Image and all info shown on this page (Smart Phone Ready)

NOTE. This is not the best quality at 48 Kb | CBR | 22,000 Hz | Stereo

ABOUT THE BOOK
Off the coast of South Korea, a young boy discovers a cave soaked in human blood. Less than a week later, everyone in his village disappears… In Saudi Arabia, a female archaeologist unearths an artifact that threatens the very foundation of Islam. To some, it is a discovery that must be silenced at all costs… In a secret bunker run by U.S. intelligence, the unthinkable has happened. While interrogating one of the world's most dangerous terrorists, an ex-member of the MANIAC Special Forces squad is brutally executed. Jonathon Payne and D. J. Jones, his former commanders, offer to spearhead the investigation. They quickly realize there is more to this atrocity than terrorist reprisal—there is a plot in motion that will burn the world in the fires of a holy war…

ABOUT THE AUTHOR
Chris Kuzneski (born in 1969) is a New York Times bestselling American author. Born in Indiana, Pennsylvania, he currently lives in Tampa, Florida. Kuzneski played football at the University of Pittsburgh where he received his undergraduate degree in writing and his master's degree in teaching. So far, his books have been translated into more than 20 languages. His works have also been named a Literary Guild's featured selection and honored by the Florida Book Awards.
Due to his success in the United Kingdom, his books are released in the British market several months before they are published in America.

ABOUT THE READER
Dick Hill has narrated over 1000 audiobooks, and has won three Audie Awards. He is the recipient of a Golden Voices award from AudioFile magazine. He has worked with his wife, Susie Breck, who is also an audiobook narrator and director.


All the above information including the picture are inserted into the ID3 tags on the MP3 files.

Remember, we have uploaded these books just for you because we wish to SHARE them. It is only right therefore, you SHARE them with others, and the only way you can do this, is to keep SEEDING. In other words, don't stop after you have finished the download. Check and make sure your torrent program is set to continue uploading even after the downloading has been completed. A ratio of 2.0 means you are giving back twice what you have received, the book won't die and all our efforts have not been wasted but 5.0 would be outstanding and shows you have really entered into the spirit of what we are about. WE DO OUR BIT AND YOU DO YOUR BIT, sounds fair, doesn't it. If you are new to this and don't understand, type a message at the bottom and if I can't help, I know someone who can.
Announce URL:
udp://inferno.demonoid.ooo:3392/announce
This Torrent also has several backup trackers
Tracker:
udp://inferno.demonoid.ooo:3392/announce
Tracker:
udp://9.rarbg.me:2710/announce
Tracker:
udp://tracker.coppersurfer.tk:6969/announce
Tracker:
http://torrent.gresille.org/announce
Tracker:
http://tracker.aletorrenty.pl:2710/announce
Tracker:
http://tracker.ex.ua/announce
Tracker:
http://tracker.ex.ua:80/announce
Tracker:
udp://tracker.internetwarriors.net:1337/announce
Tracker:
udp://tracker.opentrackr.org:1337/announce
Tracker:
udp://tracker.sktorrent.net:6969/announce
Tracker:
udp://tracker.leechers-paradise.org:6969
Info Hash:
f6e30d7588211f809da72efa3a361076737a336b
Creation Date:
Sat, 11 Jun 2016 10:06:43 +0000
This is a Multifile Torrent
01 of 10 Sword of God.mp3 23.4 MBs
02 of 10 Sword of God.mp3 23.8 MBs
03 of 10 Sword of God.mp3 23.3 MBs
04 of 10 Sword of God.mp3 23.36 MBs
05 of 10 Sword of God.mp3 21.61 MBs
06 of 10 Sword of God.mp3 20.65 MBs
07 of 10 Sword of God.mp3 20.58 MBs
08 of 10 Sword of God.mp3 20.74 MBs
09 of 10 Sword of God.mp3 20.59 MBs
10 of 10 Sword of God.mp3 19.3 MBs
Chris_Kuzneski.jpg 5.77 KBs
Dick_Hill.jpg 3.97 KBs
Sword of God Information File.txt 2.55 KBs
Sword_Of_God.jpg 74.92 KBs
Torrent downloaded from Demonoid.ooo.txt 39 Bytes
Combined File Size:
217.42 MBs
Piece Size:
256 KBs
Torrent Encoding:
UTF-8
Seeds:
47
Peers:
10
Completed Downloads:
218
Torrent Download:
Torrent Free Downloads
Tips:
Sometimes the torrent health info isn't accurate, so you can download the file and check it out or try the following downloads.
Direct Download:
Download Files Now
Tips:
You could try out the alternative usenet.nl client.
High Speed Download:
Unlimited Speed Download
Ads: