OliverTwist - Charles Dickens
Shared by:OldScotsman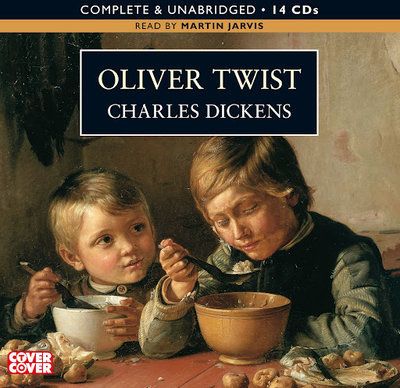 Written by Charles Dickens
Read by Martin Jarvis
Format: MP3

GENERAL INFORMATION
Book Title:....................OliverTwist
Author:.........................Charles Dickens
Narrator:......................Martin Jarvis
Genre:..........................Literary
Publisher:.....................BBC Audio Books

FILE INFORMATION
Source:........................14 CDs
# of MP3 files:..............14
Total Runtime:..............16 Hours 26 Minutes
Encoder:.......................Lame 3.98 - A secure rip using Easy CD-DA exrractor
Converted To:...............96 Kb | ABR | 32,000 Hz | Stereo
Total Size:.....................626 MB
Converted By:...............OldScotsman
Date Converted:...........22-August-2008
ID3 Tags:......................Includes Image and all info shown on this page (Smart Phone Ready)

ABOUT THE BOOK
Dickens's second novel was a far cry from THE PICKWICK PAPERS, his first. The story of an orphan who flees the workhouse only to fall in with a gang of thieves and prostitutes in London's sleazy underworld, it was a trenchant criticism of England's poor laws. Enacted in the 1830s, these laws provided assistance for the poor only through workhouses, which were deliberately squalid and miserable to encourage the poor--who were considered lazy and immoral--to better themselves and get out. The inequities between rich and poor were one of Dickens's constant themes, and with OLIVER TWIST he established himself as a staunch champion of the downtrodden, particularly children. The novel also, however, has its cheerful moments, and contains some of Dickens's most memorable characters, including Fagin, the Artful Dodger, the evil Bill Sykes, and the unfortunate Nancy.
The story of the orphan Oliver, who runs away from the workhouse only to be taken in by a den of thieves, shocked readers when it was first published. Dickens's tale of childhood innocence beset by evil depicts the dark criminal underworld of a London peopled by vivid and memorable characters - the arch-villain Fagin, the Artful Dodger, the menacing Bill Sikes and the prostitute Nancy. Combining elements of Gothic Romance, the Newgate Novel and popular melodrama, Dickens created an entirely new kind of fiction, scathing in its indictment of a cruel society, and pervaded by an unforgettable sense of threat and mystery.

ABOUT THE AUTHOR
Charles John Huffam Dickens was born on February 7, 1812 in Portsmouth, Hampshire, England. In 1824, his father was imprisoned for debt, so Charles was sent to work in a shoe-dye factory. He later became a clerk in a law firm, a shorthand reporter in the courts, and a parliamentary and newspaper reporter. In 1833, Dickens began to contribute short stories and essays to periodicals, heralding the start of a glittering and prolific literary career. He married Catherine Hogarth in 1836, with whom he had nine surviving children before they separated in 1858. Dickens died suddenly at home on June 9, 1870, leaving behind an internationally acclaimed canon of work, including Oliver Twist (1837), Nicholas Nickleby (1838), David Copperfield (1849-50), Bleak House (1852-53), Little Dorrit (1855-57), A Tale of Two Cities (1859), Great Expectations (1860-61) and Our Mutual Friend (1864-65). He was buried in Westminster Abbey. Michael Slater is Professor of Victorian Literature at Birkbeck College in the University of London. He was editor of The Dickensian (1968-77) and President of the International Dickens Fellowship (1988-90). He has published many books and articles on Dickens. --This text refers to an out of print or unavailable edition of this title.

ABOUT THE READER
Martin Jarvis is a distinguished actor with a very long career and is probably best known for his radio work - his voice is a staple of Radio 4. With his wife Rosalind Ayres, he runs Jarvis and Ayres Productions, which produces dramas, readings and audiobooks. For this, and his other work, Martin was honoured with an OBE for his services to drama in 2000.
Martin often steps behind the mike himself, and has narrated dozens of audiobooks and readings, including versions of Richmal Crompton's William books, Kafka's Metamorphosis, P.G. Wodehouse's Carry On Jeeves, and 101 Dalmations.
Martin's TV debut was in Doctor Who in 1965, playing a giant butterfly in The Web Planet. A couple of years later he played Jolyon Forsyte in The Forsyte Saga. Since then, his many TV parts have included Oliver, the main lead, in 1978 sitcom Rings On Their Fingers, Uriah Heep in David Copperfield, and Jeeves in the TV version of Alan Ayckbourn's musical By Jeeves!t


All the above information including the Image are inserted into the ID3 tags on the MP3 files.

Remember, we have uploaded these books just for you because we wish to SHARE them. It is only right therefore, you SHARE them with others, and the only way you can do this, is to keep SEEDING. In other words, don't stop after you have finished the download. Check and make sure your torrent program is set to continue uploading even after the downloading has been completed. A ratio of 2.0 means you are giving back twice what you have received, the book won't die and all our efforts have not been wasted but 5.0 would be outstanding and shows you have really entered into the spirit of what we are about. WE DO OUR BIT AND YOU DO YOUR BIT, sounds fair, doesn't it. If you are new to this and don't understand, send me a Personal Message in the Forum, not in the comments section below. If I can't help, I know someone who can.

Announce URL:
http://inferno.demonoid.ooo:3389/announce
This Torrent also has several backup trackers
Tracker:
http://inferno.demonoid.ooo:3389/announce
Tracker:
http://anisaishuu.de:2710/announce
Tracker:
http://tracker.ex.ua:80/announce
Tracker:
http://mgtracker.org:2710/announce
Tracker:
udp://tracker.publicbt.com:80/announce
Tracker:
udp://open.demonii.com:1337/announce
Tracker:
udp://tracker.openbittorrent.com:80/announce
Tracker:
udp://red.tracker.prq.to:80/announce
Tracker:
udp://vip.tracker.prq.to:80/announce
Tracker:
udp://11.rarbg.com/announce
Tracker:
udp://tracker.prq.to:80/announce
Tracker:
udp://t1.pow7.com:80/announce
Tracker:
udp://12.rarbg.me:80/announce
Tracker:
udp://tracker2.istole.it:80/announce
Tracker:
udp://tv.tracker.prq.to:80/announce
Tracker:
udp://tpb.tracker.prq.to:80/announce
Tracker:
udp://a.tv.tracker.prq.to:80/announce
Tracker:
udp://tracker.ex.ua:80/announce
Tracker:
udp://ipv4.tracker.harry.lu:80/announce
Tracker:
udp://tracker.prq.to/announce
Tracker:
udp://10.rarbg.com:80/announce
Info Hash:
bb89d188c37f9c7f1712b977bea55336e43ee3b3
Creation Date:
Mon, 23 Jun 2014 12:13:26 +0000
This is a Multifile Torrent
Oliver Twist - CD 12.mp3 50.45 MBs
Oliver Twist - CD 11.mp3 47.36 MBs
Oliver Twist - CD 10.mp3 45.51 MBs
Oliver Twist - CD 09.mp3 47.32 MBs
Oliver Twist - CD 13.mp3 32.95 MBs
Oliver Twist - CD 14.mp3 30.67 MBs
Torrent downloaded from Demonoid.ph.txt 39 Bytes
OliverTwist.jpg 127.13 KBs
Oliver Twist Information Information File.txt 4.5 KBs
Oliver Twist - CD 08.mp3 50.75 MBs
Oliver Twist - CD 07.mp3 47.1 MBs
Oliver Twist - CD 01.mp3 42.75 MBs
Oliver Twist 1.jpg 116.63 KBs
Martin Jarvis.jpg 14.77 KBs
Oliver Twist - CD 02.mp3 48.07 MBs
Oliver Twist - CD 03.mp3 49.5 MBs
Oliver Twist - CD 06.mp3 38.08 MBs
Oliver Twist - CD 05.mp3 45.6 MBs
Oliver Twist - CD 04.mp3 49.95 MBs
Charles Dickens.jpg 180.58 KBs
Combined File Size:
626.5 MBs
Piece Size:
256 KBs
Seeds:
46
Peers:
2
Completed Downloads:
460
Torrent Download:
Torrent Free Downloads
Tips:
Sometimes the torrent health info isn't accurate, so you can download the file and check it out or try the following downloads.
Direct Download:
Download Files Now
Tips:
You could try out the alternative usenet.nl client.
High Speed Download:
Unlimited Speed Download
Ads: