Greed - [Matt Browning 01] - Chris Ryan
Shared by:OldScotsman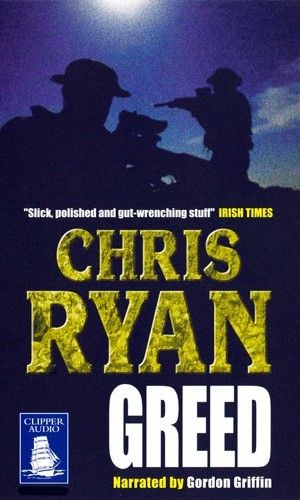 Written by Chris Ryan
Read by Gordon Griffin
Format: MP3
Bitrate: 64 Kbps
Unabridged

If you have a request for another book or a Re-Seed send me a Personal Message in the Forum, not in the comments section below.

GENERAL INFORMATION
Book Title:....................Greed
Series Name:...............Matt Browning
Series No:....................01
Author:.........................Chris Ryan
Narrator:......................Gordon Griffin

FILE INFORMATION
Source:........................9 CDs
# of MP3 files:..............9
Total Runtime:..............11 Hours
Encoder:.......................Fraunhofer [FhG] (Guess)
Converted To:...............128 Kb | CBR | 44,100 Hz | Stereo
Total Size:.....................303 MB
Converted By:...............OldScotsman
Date Converted:...........4-February-2015
ID3 Tags:......................Includes Image and all info shown on this page (Smart Phone Ready)

ABOUT THE BOOK
Fresh out of the SAS, Matt Browning is down on his luck. He owes half a million pounds and if he doesn't get the money soon, he dies. From nowhere, he is offered a lifeline. A hit on al-Qaeda, sanctioned and helped by MI5. Matt gathers asmall team of former SAS men to steal $10 million in gold and diamonds from the world's most deadly terrorist organisation. MI5 will give them all the equipment and information they need and no charges will ever be pressed. Matt thinks it's the perfect crime. Safe, quick, and patriotic. But after the money is stolen, the killing starts

ABOUT THE AUTHOR
Chris Ryan was born near Newcastle in 1961. He joined the SAS in 1984. During his ten years he was involved in overt and covert operations and was also Sniper team commander of the anti-terrorist team. During the Gulf War, Chris was the only member of Bravo Two Zero, an eight-man patrol, to escape from Iraq, of which three colleagues were killed and four captured. It was the longest escape and evasion in the history of the SAS. For this he was awarded the Military Medal. For his last two years he was selecting and training potential recruits for the SAS.
He left the SAS in 1994 and now lives in America. In 1995, wrote about his experiences in the Gulf War in The One That Got Away. He has since gone on to write a number of best-selling novels such as Land of Fire, Stand By, Stand By and Zero Option.

ABOUT THE READER
Gordon Griffin, an actor for over 40 years and performed in everything from Shakespeare to rock musicals but what impresses people most is the fact that he is one of the people telling you to "Mind the Gap" on London Underground! After graduating from the Rose Bruford College, Gordon worked extensively in theatre (Shakespeare to rock musicals) television (including three seasons of Byker Grove) and film. But he is best known for his audio book recordings. He has recorded nearly 400 ranging from Gogol to Chris Ryan, from Thackeray to Catherine Cookson.


All the above information including the picture are inserted into the ID3 tags on the MP3 files.

Remember, we have uploaded these books just for you because we wish to SHARE them. It is only right therefore, you SHARE them with others, and the only way you can do this, is to keep SEEDING. In other words, don't stop after you have finished the download. Check and make sure your torrent program is set to continue uploading even after the downloading has been completed. A ratio of 2.0 means you are giving back twice what you have received, the book won't die and all our efforts have not been wasted but 5.0 would be outstanding and shows you have really entered into the spirit of what we are about. WE DO OUR BIT AND YOU DO YOUR BIT, sounds fair, doesn't it. If you are new to this and don't understand, type a message at the bottom and if I can't help, I know someone who can.

Announce URL:
http://inferno.demonoid.com:3414/announce
Info Hash:
03225ccfeb1df9878ec251da6fa731c9f8a2c51e
Creation Date:
Wed, 19 Sep 2007 21:09:15 +0000
This is a Multifile Torrent
Chris Ryan 2.jpg 27.92 KBs
Gordon Griffin 2.jpg 45.72 KBs
Greed - CD 01.mp3 67.81 MBs
Greed - CD 02.mp3 66.7 MBs
Greed - CD 03.mp3 67.83 MBs
Greed - CD 04.mp3 67.79 MBs
Greed - CD 05.mp3 67.8 MBs
Greed - CD 06.mp3 67.83 MBs
Greed - CD 07.mp3 66.52 MBs
Greed - CD 08.mp3 66.82 MBs
Greed - CD 09.mp3 67.83 MBs
Greed Info.txt 2.23 KBs
Greed.jpg 46.87 KBs
Torrent downloaded from Demonoid.com.txt 47 Bytes
Combined File Size:
607.03 MBs
Piece Size:
1 MB
Torrent Encoding:
UTF-8
Seeds:
29
Peers:
5
Completed Downloads:
403
Torrent Download:
Torrent Free Downloads
Tips:
Sometimes the torrent health info isn't accurate, so you can download the file and check it out or try the following downloads.
Direct Download:
Download Files Now
Tips:
You could try out the alternative usenet.nl client.
High Speed Download:
Unlimited Speed Download
Ads: