Doctor Who Spinoff - U.N.I.T - Series 4 - BRAND NEW - Shutdown - Big Finish
Shared by:smythers1977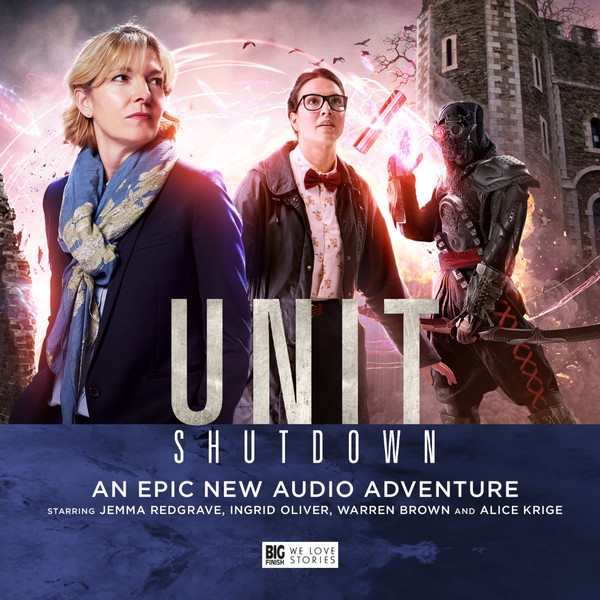 Written by Big Finish
Read by Jemma Redgrave; Ingrid Oliver; Warren Brown; James Joyce
Format: MP3
Dramatization

This is one of the BEST offerings from Big Finish thus far in the year 2016! The U.N.I.T. series is proving to be an utterly compelling spinoff of audio drama at it's best.

Since being given license to tell "New Who" stories two years ago, the results have been mixed affairs. The delightful U.N.I.T stories and the Tenth Doctor series coming out the best, and the Churchill Stories being a rather boring affair into the 9th Doctor. The War Doctor series was a bit slow the first series but the second series really picked up. But, I must admit that I am enjoying U.N.I.T. the most of the lot. I simply love the characters introduced of Kate as the hard as nails daughter of the Brigadier and Osgood as her scientific genius. The introduction of Captain Josh as the very sexy brave military commander and love interest for Osgood is utterly compelling as well. I hope they might give Josh his day on the television with the 12th Doctor.

U.NI.T. was never my favorite plot in Classic Who, despite my loving the Brig so much. But, I have to say that Kate is a completely worthy successor to her old dad and more. Strong female characters in their 50s are rather rare in science fiction. I know her father must have been damn proud of his daughter.

In short, 9 out of 10. This is audio drama at it's very best and I can't wait for the next U.N.I.T. stories to come along. I think a complete newcomer to Doctor Who would enjoy this as much as a fan like myself. It is as great as the first Torchwood episodes in being original, adult, funny, exciting, and completely at home without having the Doctor around.

I recommend this highly. Please SEED if you download from my torrents! Thanks!
Announce URL:
udp://tracker.leechers-paradise.org:6969
This Torrent also has several backup trackers
Tracker:
udp://tracker.leechers-paradise.org:6969
Info Hash:
f732bb06759470e7da6959d53b4cf50cef4e9589
Creation Date:
Wed, 06 Jul 2016 08:44:10 +0000
This is a Multifile Torrent
Covers UNITNS0201_powercell_1417.jpg 1.48 MBs
Covers UNITNS0202_deathingeneva_1417.jpg 1.37 MBs
Covers UNITNS0203_thebattleofthetower_1417.jpg 1.48 MBs
Covers UNITNS0204_icestationalpha_1417.jpg 1.35 MBs
Covers UNITNS02_slipcase_1417SQ.jpg 2.05 MBs
Covers UNITNS02_slipcase_1688x1500.jpg 2.56 MBs
Covers Vortex-88.pdf 7.01 MBs
UNIT 4x01 - Power Cell.mp3 42.12 MBs
UNIT 4x02 - Death in Geneva.mp3 45.33 MBs
UNIT 4x03 - The Battle of the Tower.mp3 43.58 MBs
UNIT 4x04 - Ice Station Alpha.mp3 48.74 MBs
UNIT 4x05 - Behind the Scenes.mp3 50.53 MBs
Combined File Size:
247.61 MBs
Piece Size:
128 KBs
Torrent Encoding:
UTF-8
Seeds:
29
Peers:
2
Completed Downloads:
483
Torrent Download:
Torrent Free Downloads
Tips:
Sometimes the torrent health info isn't accurate, so you can download the file and check it out or try the following downloads.
Direct Download:
Download Files Now
Tips:
You could try out the alternative usenet.nl client.
High Speed Download:
Unlimited Speed Download
Ads: