Deathlist - [Strikeback 02] - Chris Ryan
Shared by:OldScotsman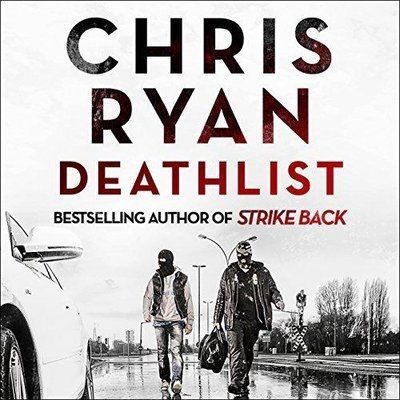 Written by Chris Ryan
Read by Barnaby Edwards
Format: MP3
Bitrate: 64 Kbps
Unabridged

GENERAL INFORMATION
Book Title:....................Deathlist
Series Name:...............Strikeback
Series No:....................02
Author:........................Chris Ryan
Narrator:......................Barnaby Edwards
Genre:..........................Adventure Thriller

FILE INFORMATION
Source:........................1 eDownloaded DRM protected (Digital Rights Management) 64 Kb file
# of MP3 files:..............10 Files carefully created averaging about one hour duration each
Total Runtime:..............10 Hours 55 Minutes
Encoder:.......................Lame 3.99
Converted To:...............64 Kb | CBR | 44,100 Hz | Mono with DRM removed
Total Size:.....................300 MB
Converted By:...............OldScotsman
Date Converted:...........14-January-2016
ID3 Tags:......................Includes Image and all info shown on this page (Smart Phone Ready)

ABOUT THE BOOK
It's 1999. A bitterly cold morning in the Brecon Beacons, and the soldiers trying out for SAS Selection are preparing to face their toughest test yet. Overseeing the soldiers is John Porter: once a promising young Blade, now a broken man and a drunk, seeing out his days in the Regiment Training Wing.
But before the Fan Dance can begin, six masked gunmen carry out a devastating attack. Dozens of soldiers are killed. In the aftermath of the massacre, and with a government desperate for action, Porter and another surviving operator, John Bald, are taken to a secretive briefing in London. Their orders - to hunt down and kill those responsible for the attack.
What follows is a deadly game of kill or be killed as Bald and Porter lead a Strike Team across Europe on a blood-soaked mission of revenge. But as they draw closer to their ultimate target, the men discover that there is a greater threat - much closer to home....

ABOUT THE AUTHOR
Chris Ryan was born near Newcastle in 1961. He joined the SAS in 1984. During his ten years he was involved in overt and covert operations and was also Sniper team commander of the anti-terrorist team. During the Gulf War, Chris was the only member of Bravo Two Zero, an eight-man patrol, to escape from Iraq, of which three colleagues were killed and four captured. It was the longest escape and evasion in the history of the SAS. For this he was awarded the Military Medal. For his last two years he was selecting and training potential recruits for the SAS.
He left the SAS in 1994 and now lives in America. In 1995, wrote about his experiences in the Gulf War in The One That Got Away. He has since gone on to write a number of best-selling novels such as Land of Fire, Stand By, Stand By and Zero Option.

ABOUT THE READER
Barnaby Edwards is a British actor, writer, director and artist. Barnaby graduated from Exeter University in 1991 with a degree in Fine Art and French and trained at the Guildford School Of Acting. He is known as a performer for the British science-fiction television series Doctor Who, in the role of a Dalek operator. He has also written, directed, produced or performed in over 80 Big Finish Doctor Who audio stories. Alongside frequent radio and voice over work, Edwards has narrated over 40 unabridged audiobooks for Audible.com and others.


All the above information including the picture are inserted into the ID3 tags on the MP3 files.

Remember, we have uploaded these books just for you because we wish to SHARE them. It is only right therefore, you SHARE them with others, and the only way you can do this, is to keep SEEDING. In other words, don't stop after you have finished the download. Check and make sure your torrent program is set to continue uploading even after the downloading has been completed. A ratio of 2.0 means you are giving back twice what you have received, the book won't die and all our efforts have not been wasted but 5.0 would be outstanding and shows you have really entered into the spirit of what we are about. WE DO OUR BIT AND YOU DO YOUR BIT, sounds fair, doesn't it. If you are new to this and don't understand, type a message at the bottom and if I can't help, I know someone who can.

Announce URL:
udp://9.rarbg.me:2710/announce
This Torrent also has several backup trackers
Tracker:
udp://9.rarbg.me:2710/announce
Tracker:
udp://10.rarbg.com:80/announce
Tracker:
udp://11.rarbg.com/announce
Tracker:
udp://12.rarbg.me:80/announce
Tracker:
http://anisaishuu.de:2710/announce
Tracker:
udp://a.tv.tracker.prq.to:80/announce
Tracker:
http://bigfoot1942.sektori.org:6969/announce
Tracker:
udp://coppersurfer.tk:6969/announce
Tracker:
udp://exodus.desync.com:6969/announce
Tracker:
udp://glotorrents.pw:6969/announce
Tracker:
udp://inferno.demonoid.ooo:3392/announce
Tracker:
http://inferno.demonoid.ph:3389/announce
Tracker:
udp://ipv4.tracker.harry.lu:80/announce
Tracker:
http://mgtracker.org:2710/announce
Tracker:
udp://open.demonii.com:1337/announce
Tracker:
udp://red.tracker.prq.to:80/announce
Tracker:
udp://sugoi.pomf.se:80/announce
Tracker:
udp://t1.pow7.com:80/announce
Tracker:
http://torrent.gresille.org/announce
Tracker:
udp://tpb.tracker.prq.to:80/announce
Tracker:
udp://tracker2.istole.it:80/announce
Tracker:
udp://tracker4.piratux.com:6969/announce
Tracker:
http://tracker.aletorrenty.pl:2710/announce
Tracker:
http://tracker.ccc.de:80/announce
Tracker:
udp://tracker.coppersurfer.tk:6969/announce
Tracker:
http://tracker.ex.ua:80/announce
Tracker:
http://tracker.ex.ua/announce
Tracker:
udp://tracker.internetwarriors.net:1337/announce
Tracker:
udp://tracker.istole.it:80/announce
Tracker:
udp://tracker.openbittorrent.com:80/announce
Tracker:
udp://tracker.opentrackr.org:1337/announce
Tracker:
udp://tracker.prq.to/announce
Tracker:
udp://tracker.prq.to:80/announce
Tracker:
udp://tracker.publicbt.com:80/announce
Tracker:
http://tracker.pubt.net:2710/announce
Tracker:
udp://tracker.sktorrent.net:6969/announce
Tracker:
udp://tracker.token.ro:80/announce
Tracker:
udp://tv.tracker.prq.to:80/announce
Info Hash:
a8fc16c8d269bdeaf4e2727d94747754b98cf4c0
Creation Date:
Thu, 14 Jan 2016 17:39:06 +0000
This is a Multifile Torrent
Barnaby_Edwards.jpg 6.64 KBs
Chris_Ryan.jpg 30.64 KBs
Deathlist - Part 01.mp3 32.08 MBs
Deathlist - Part 02.mp3 34.31 MBs
Deathlist - Part 03.mp3 35.03 MBs
Deathlist - Part 04.mp3 30.19 MBs
Deathlist - Part 05.mp3 31.25 MBs
Deathlist - Part 06.mp3 30.62 MBs
Deathlist - Part 07.mp3 33.99 MBs
Deathlist - Part 08.mp3 29.59 MBs
Deathlist - Part 09.mp3 28.45 MBs
Deathlist - Part 10.mp3 15.01 MBs
Deathlist Information File.txt 3.19 KBs
Deathlist.jpg 47.17 KBs
Combined File Size:
300.61 MBs
Piece Size:
512 KBs
Torrent Encoding:
UTF-8
Seeds:
49
Peers:
5
Completed Downloads:
261
Torrent Download:
Torrent Free Downloads
Tips:
Sometimes the torrent health info isn't accurate, so you can download the file and check it out or try the following downloads.
Direct Download:
Download Files Now
Tips:
You could try out the alternative usenet.nl client.
High Speed Download:
Unlimited Speed Download
Ads: