Clear by Fire ~ [Search And Destroy 01] *** REQUEST for "Hodges" - Joshua Hood
Shared by:OldScotsman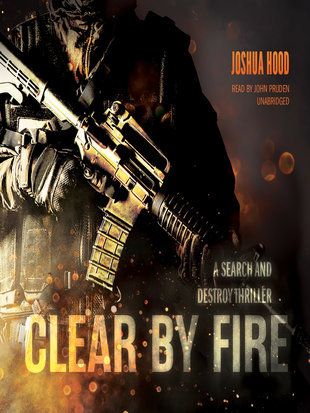 Written by Joshua Hood
Read by John Pruden
Format: MP3
Bitrate: 64 Kbps
Unabridged

GENERAL INFORMATION
Book Title:....................Clear by Fire
Series Name:...............Search And Destroy
Series No:....................01
Author:.........................Joshua Hood
Narrator:......................John Pruden
Genre:..........................Adventure Military Thriller
Publisher:.....................Blackstone Audio

FILE INFORMATION
Source:........................1 eDownloaded DRM protected (Digital Rights Management) 64 Kb file
# of MP3 files:..............8
Total Runtime:..............9 Hours 30 Minutes
Encoder:.......................Lame 3.91u
Converted To:...............64 Kb | CBR | 44,100 Hz | Stereo with DRM removed
Total Size:.....................261 MB
Converted By:...............OldScotsman
Date Converted:...........17-January-2016
ID3 Tags:......................Includes Image and all info shown on this page (Smart Phone Ready)

ABOUT THE BOOK
Inspired by the experiences of a decorated combat veteran and former member of the 82nd Airborne Division, Clear by Fire is a blistering new military thriller about an American hero who, in order to clear his name, must take down a highly classified band of soldiers that has gone murderously rogue.
Mason Kane was a loyal American soldier and a proud member of the elite, off-the-books Anvil Program - a group of black ops soldiers who wage war from the shadows. But all that changed when his commander, as a part of a twisted scheme to force America's continued involvement in the Middle East, ordered an innocent Afghan family murdered.
Refusing the order, Mason finds himself on the run, hunted by his former comrades and labeled a terrorist by the country he served faithfully. Relying only on his survival skills and the help of female Special Operations operative Renee Hart, Kane must embark on his gravest mission yet: unraveling the conspiracy that reaches all way to the president's inner circle and stopping the world's most dangerous soldiers from completing their treacherous plan.
Set in the shadows of the war on terror, this realistic, action-packed adventure puts a twist on the traditional military thriller and starts a brand-new series that fans of Brad Thor and Brad Taylor will love.

ABOUT THE AUTHOR
Joshua Hood graduated from the University of Memphis before joining the military and spending five years in the 82nd Airborne Division, where he was team leader in the 3-504 Parachute Infantry Regiment. In 2005, he was sent to Iraq and conducted combat operations in support of Operation Iraqi Freedom from 20052006, and from 2007 to 2008 he served as a squad leader in the 1-508th Parachute Infantry Regiment and was deployed to Afghanistan for Operation Enduring Freedom. Hood was decorated for valor in Operation Furious Pursuit. He is currently a member of a full time SWAT team in Memphis, Tennessee, and has conducted countless stateside operations with the FBI, ATF, DEA, Secret Service, and US Marshals.

ABOUT THE READER
John Pruden is a full-time professional audiobook narrator and voice actor. As of mid-2013 John has narrated over 100 audiobooks and his reading of The Sisters Brothers, by Patrick deWitt, was chosen as the best audiobook of 2011 by The Washington Post. John has travelled the country as a respected voiceover instructor/producer/director, performed on stage for three years in a comedy improv troupe, and sang competitively in an a capella ensemble on the International stage. He began his performing career while he was a U.S. Army UH-60 Black Hawk assault helicopter pilot acting as the "Voice Of The Eagle," the master of ceremonies for the 101st Airborne Division.


All the above information including the Image are inserted into the ID3 tags on the MP3 files.

Remember, we have uploaded these books just for you because we wish to SHARE them. It is only right therefore, you SHARE them with others, and the only way you can do this, is to keep SEEDING. In other words, don't stop after you have finished the download. Check and make sure your torrent program is set to continue uploading even after the downloading has been completed. A ratio of 2.0 means you are giving back twice what you have received, the book won't die and all our efforts have not been wasted but 5.0 would be outstanding and shows you have really entered into the spirit of what we are about. WE DO OUR BIT AND YOU DO YOUR BIT, sounds fair, doesn't it. If you are new to this and don't understand, send me a Personal Message in the Forum, not in the comments section below. If I can't help, I know someone who can.
Announce URL:
udp://9.rarbg.me:2710/announce
This Torrent also has several backup trackers
Tracker:
udp://9.rarbg.me:2710/announce
Tracker:
udp://10.rarbg.com:80/announce
Tracker:
udp://11.rarbg.com/announce
Tracker:
udp://12.rarbg.me:80/announce
Tracker:
http://anisaishuu.de:2710/announce
Tracker:
udp://a.tv.tracker.prq.to:80/announce
Tracker:
http://bigfoot1942.sektori.org:6969/announce
Tracker:
udp://coppersurfer.tk:6969/announce
Tracker:
udp://exodus.desync.com:6969/announce
Tracker:
udp://glotorrents.pw:6969/announce
Tracker:
udp://inferno.demonoid.ooo:3392/announce
Tracker:
http://inferno.demonoid.ph:3389/announce
Tracker:
udp://ipv4.tracker.harry.lu:80/announce
Tracker:
http://mgtracker.org:2710/announce
Tracker:
udp://open.demonii.com:1337/announce
Tracker:
udp://red.tracker.prq.to:80/announce
Tracker:
udp://sugoi.pomf.se:80/announce
Tracker:
udp://t1.pow7.com:80/announce
Tracker:
http://torrent.gresille.org/announce
Tracker:
udp://tpb.tracker.prq.to:80/announce
Tracker:
udp://tracker2.istole.it:80/announce
Tracker:
udp://tracker4.piratux.com:6969/announce
Tracker:
http://tracker.aletorrenty.pl:2710/announce
Tracker:
http://tracker.ccc.de:80/announce
Tracker:
udp://tracker.coppersurfer.tk:6969/announce
Tracker:
http://tracker.ex.ua:80/announce
Tracker:
http://tracker.ex.ua/announce
Tracker:
udp://tracker.internetwarriors.net:1337/announce
Tracker:
udp://tracker.istole.it:80/announce
Tracker:
udp://tracker.openbittorrent.com:80/announce
Tracker:
udp://tracker.opentrackr.org:1337/announce
Tracker:
udp://tracker.prq.to/announce
Tracker:
udp://tracker.prq.to:80/announce
Tracker:
udp://tracker.publicbt.com:80/announce
Tracker:
http://tracker.pubt.net:2710/announce
Tracker:
udp://tracker.sktorrent.net:6969/announce
Tracker:
udp://tracker.token.ro:80/announce
Tracker:
udp://tv.tracker.prq.to:80/announce
Info Hash:
abf244bac16f69ae05b569431a6e98e508b66c55
Creation Date:
Thu, 17 Mar 2016 19:44:12 +0000
This is a Multifile Torrent
Clear by Fire - Part 01.mp3 28.44 MBs
Clear by Fire - Part 02.mp3 29.72 MBs
Clear by Fire - Part 03.mp3 34.89 MBs
Clear by Fire - Part 04.mp3 32.05 MBs
Clear by Fire - Part 05.mp3 30.85 MBs
Clear by Fire - Part 06.mp3 35.11 MBs
Clear by Fire - Part 07.mp3 34.43 MBs
Clear by Fire - Part 08.mp3 36.02 MBs
Clear by Fire Information File.txt 3.55 KBs
Clear_by_Fire.jpg 48.35 KBs
John_Pruden.jpg 4.84 KBs
Joshua_Hood.jpg 4.43 KBs
Combined File Size:
261.57 MBs
Piece Size:
512 KBs
Torrent Encoding:
UTF-8
Seeds:
50
Peers:
1
Completed Downloads:
142
Torrent Download:
Torrent Free Downloads
Tips:
Sometimes the torrent health info isn't accurate, so you can download the file and check it out or try the following downloads.
Direct Download:
Download Files Now
Tips:
You could try out the alternative usenet.nl client.
High Speed Download:
Unlimited Speed Download
Ads: