Captain Corelli's Mandolin *** REQUEST FOR "FaroPolar" - Louis de Bernières
Shared by:OldScotsman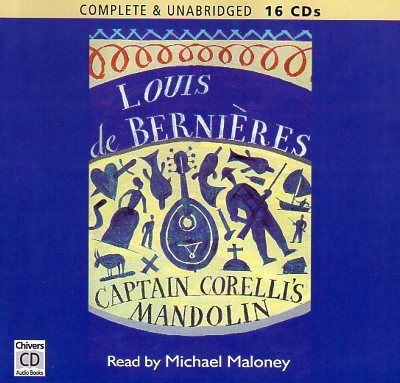 Written by Louis de Bernières
Read by Michael Maloney
Format: MP3
Bitrate: 64 Kbps
Unabridged

GENERAL INFORMATION
Book Title:....................Captain Corelli's Mandolin
Author:.........................Louis de Bernières
Narrator:......................Michael Maloney
Genre:..........................Historical Fiction
Publisher:.....................BBC Audiobooks
ISBN:............................9780 7540 53482

FILE INFORMATION
Source:........................16 CDs
# of MP3 files:..............16
Total Runtime:..............17 Hours 35 Minutes
Encoder:.......................Fraunhofer [FhG] (Guess) - A secure rip using dBpoweramp
Converted To:...............64 Kb | CBR | 44,100 Hz | Mono
Total Size:.....................476 MB
Converted By:...............OldScotsman
Date Converted:...........13-March-2016
ID3 Tags:......................Includes Image and all info shown on this page (Smart Phone Ready)

ABOUT THE BOOK
It is 1941 and Captain Antonio Corelli, a young Italian officer, is posted to the Greek island of Cephallonia as part of the occupying forces. At first he is ostracised by the locals, but as a conscientious soldier, whose main aim is to have a peaceful war, he proves in time to be civilised, humorous - and a consummate musician. When the local doctor's daughter's letters to her fiancé go unanswered, the working of the eternal triangle seems inevitable. But can this fragile love survive as the war gets closer and the lines are drawn between invader and defender?

ABOUT THE AUTHOR
Louis de Bernières was born in London in 1954. He joined the army at 18 but left after spending four months at Sandhurst. After graduating from the Victoria University of Manchester, he took a postgraduate certificate in Education at Leicester Polytechnic and obtained his MA at the University of London.
Before writing full-time, he held many varied jobs including landscape gardener, motorcycle messenger and car mechanic. He also taught English in Colombia, an experience which determined the style and setting of his first three novels.
In 1993, he was selected as one of the 20 'Best of Young British Novelists 2' promotion in Granta magazine. His fourth novel, Corelli's Mandolin, was published in the following year, winning the Commonwealth Writers Prize (Best Book). It was also shortlisted for the Sunday Express Book of the Year. It has become a worldwide bestseller and has now been translated into over 30 languages. A film adaptation of the novel was released in 2001, and the novel has also been adapted for the stage.

ABOUT THE READER
Michael Maloney (born 19 June 1957) is an English actor and was born in Bury St. Edmunds, Suffolk. He has been a regular on the small screen for over 20 years, appearing in everything from Hamlet to Dalziel And Pascoe. In 2003 he made his mark in the critically acclaimed The Forsyte Saga


All the above information including the Image are inserted into the ID3 tags on the MP3 files.

Remember, we have uploaded these books just for you because we wish to SHARE them. It is only right therefore, you SHARE them with others, and the only way you can do this, is to keep SEEDING. In other words, don't stop after you have finished the download. Check and make sure your torrent program is set to continue uploading even after the downloading has been completed. A ratio of 2.0 means you are giving back twice what you have received, the book won't die and all our efforts have not been wasted but 5.0 would be outstanding and shows you have really entered into the spirit of what we are about. WE DO OUR BIT AND YOU DO YOUR BIT, sounds fair, doesn't it. If you are new to this and don't understand, send me a Personal Message in the Forum, not in the comments section below. If I can't help, I know someone who can.

Announce URL:
udp://9.rarbg.me:2710/announce
This Torrent also has several backup trackers
Tracker:
udp://9.rarbg.me:2710/announce
Tracker:
udp://10.rarbg.com:80/announce
Tracker:
udp://11.rarbg.com/announce
Tracker:
udp://12.rarbg.me:80/announce
Tracker:
http://anisaishuu.de:2710/announce
Tracker:
udp://a.tv.tracker.prq.to:80/announce
Tracker:
http://bigfoot1942.sektori.org:6969/announce
Tracker:
udp://coppersurfer.tk:6969/announce
Tracker:
udp://exodus.desync.com:6969/announce
Tracker:
udp://glotorrents.pw:6969/announce
Tracker:
udp://inferno.demonoid.ooo:3392/announce
Tracker:
http://inferno.demonoid.ph:3389/announce
Tracker:
udp://ipv4.tracker.harry.lu:80/announce
Tracker:
http://mgtracker.org:2710/announce
Tracker:
udp://open.demonii.com:1337/announce
Tracker:
udp://red.tracker.prq.to:80/announce
Tracker:
udp://sugoi.pomf.se:80/announce
Tracker:
udp://t1.pow7.com:80/announce
Tracker:
http://torrent.gresille.org/announce
Tracker:
udp://tpb.tracker.prq.to:80/announce
Tracker:
udp://tracker2.istole.it:80/announce
Tracker:
udp://tracker4.piratux.com:6969/announce
Tracker:
http://tracker.aletorrenty.pl:2710/announce
Tracker:
http://tracker.ccc.de:80/announce
Tracker:
udp://tracker.coppersurfer.tk:6969/announce
Tracker:
http://tracker.ex.ua:80/announce
Tracker:
http://tracker.ex.ua/announce
Tracker:
udp://tracker.internetwarriors.net:1337/announce
Tracker:
udp://tracker.istole.it:80/announce
Tracker:
udp://tracker.openbittorrent.com:80/announce
Tracker:
udp://tracker.opentrackr.org:1337/announce
Tracker:
udp://tracker.prq.to/announce
Tracker:
udp://tracker.prq.to:80/announce
Tracker:
udp://tracker.publicbt.com:80/announce
Tracker:
http://tracker.pubt.net:2710/announce
Tracker:
udp://tracker.sktorrent.net:6969/announce
Tracker:
udp://tracker.token.ro:80/announce
Tracker:
udp://tv.tracker.prq.to:80/announce
Info Hash:
6b98afaa4bffdaff33b10766a98f0ad8ae93031c
Creation Date:
Sun, 13 Mar 2016 19:47:22 +0000
This is a Multifile Torrent
Captain Corelli's Mandolin - CD 01.mp3 30.82 MBs
Captain Corelli's Mandolin - CD 02.mp3 30.04 MBs
Captain Corelli's Mandolin - CD 03.mp3 32.36 MBs
Captain Corelli's Mandolin - CD 04.mp3 29.85 MBs
Captain Corelli's Mandolin - CD 05.mp3 26.9 MBs
Captain Corelli's Mandolin - CD 06.mp3 33.11 MBs
Captain Corelli's Mandolin - CD 07.mp3 32.69 MBs
Captain Corelli's Mandolin - CD 08.mp3 32.9 MBs
Captain Corelli's Mandolin - CD 09.mp3 31.78 MBs
Captain Corelli's Mandolin - CD 10.mp3 30.57 MBs
Captain Corelli's Mandolin - CD 11.mp3 31.33 MBs
Captain Corelli's Mandolin - CD 12.mp3 33.13 MBs
Captain Corelli's Mandolin - CD 13.mp3 25.46 MBs
Captain Corelli's Mandolin - CD 14.mp3 23.61 MBs
Captain Corelli's Mandolin - CD 15.mp3 25.72 MBs
Captain Corelli's Mandolin - CD 16.mp3 26.62 MBs
Captain Corelli's Mandolin Information File.txt 2.74 KBs
Captain Corelli's Mandolin_Front.jpg 55.01 KBs
Captain Corelli's Mandolin_Rear.jpg 194.27 KBs
Louis_de_Bernières.jpg 4.18 KBs
Michael_Maloney.jpg 9.06 KBs
Combined File Size:
477.15 MBs
Piece Size:
512 KBs
Torrent Encoding:
UTF-8
Seeds:
44
Peers:
7
Completed Downloads:
253
Torrent Download:
Torrent Free Downloads
Tips:
Sometimes the torrent health info isn't accurate, so you can download the file and check it out or try the following downloads.
Direct Download:
Download Files Now
Tips:
You could try out the alternative usenet.nl client.
High Speed Download:
Unlimited Speed Download
Ads: