BL - Horus Heresy - 17 - The Outcast Dead - (vonG) - Graham McNeill
Shared by:OctaviusvonGilgamesh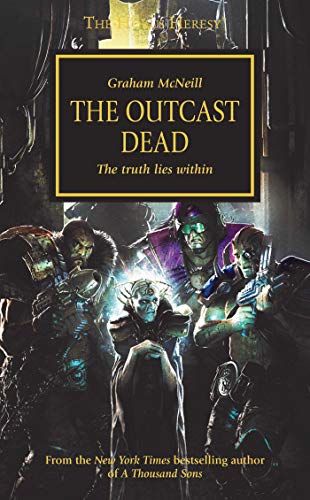 Written by Graham McNeill
Read by Jonathan Keeble
Format: MP3

A Khureshian audiobook release


The galaxy is burning. The Emperor's loyal primarchs prepare to do battle with Warmaster Horus and his turncoat Legions on the black sand of Isstvan. Such dark times herald new and yet more terrible things still to come, and when Astropath Kai Zulane unwittingly learns a secret that threatens to tip the balance of the war, he is forced to flee for his life. Alongside a mysterious band of renegades, he plunges into the deadly underworld of Terra itself, hunted like a criminal by those he once trusted. In the face of betrayal, Kai must decide where his own loyalties lie and whether some truths should be buried forever.

Announce URL:
udp://open.demonii.com:1337/announce
This Torrent also has several backup trackers
Tracker:
udp://open.demonii.com:1337/announce
Tracker:
udp://tracker.openbittorrent.com:80/announce
Tracker:
udp://9.rarbg.com:2710/announce
Tracker:
udp://tracker4.piratux.com:6969/announce
Tracker:
udp://glotorrents.pw:6969/announce
Tracker:
udp://tracker.opentrackr.org:1337/announce
Tracker:
udp://torrent.gresille.org:80/announce
Tracker:
udp://explodie.org:6969/announce
Info Hash:
e3f84d8a682fb31bb72e9b91c7f2f12e4f122dd3
Creation Date:
Sun, 22 May 2016 08:04:37 +0000
This is a Multifile Torrent
The-Outcast-Dead-A5-thumbnail.jpg 40.12 KBs
The_Outcast_Dead_-_00_-_Introduction.mp3 54.16 MBs
The_Outcast_Dead_-_01_-_Chapter_01.mp3 61.89 MBs
The_Outcast_Dead_-_02_-_Chapter_02.mp3 55.53 MBs
The_Outcast_Dead_-_03_-_Chapter_03.mp3 54.82 MBs
The_Outcast_Dead_-_04_-_Chapter_04.mp3 58.04 MBs
The_Outcast_Dead_-_05_-_Chapter_05.mp3 45.69 MBs
The_Outcast_Dead_-_06_-_Chapter_06.mp3 55.94 MBs
The_Outcast_Dead_-_07_-_Chapter_07.mp3 50.74 MBs
The_Outcast_Dead_-_08_-_Chapter_08.mp3 30.31 MBs
The_Outcast_Dead_-_09_-_Chapter_09.mp3 48.2 MBs
The_Outcast_Dead_-_10_-_Chapter_10.mp3 68.68 MBs
The_Outcast_Dead_-_11_-_Chapter_11.mp3 45.46 MBs
The_Outcast_Dead_-_12_-_Chapter_12.mp3 46.54 MBs
The_Outcast_Dead_-_13_-_Chapter_13.mp3 42.83 MBs
The_Outcast_Dead_-_14_-_Chapter_14.mp3 51.53 MBs
Combined File Size:
770.42 MBs
Piece Size:
512 KBs
Torrent Encoding:
UTF-8
Seeds:
10
Peers:
10
Completed Downloads:
459
Torrent Download:
Torrent Free Downloads
Tips:
Sometimes the torrent health info isn't accurate, so you can download the file and check it out or try the following downloads.
Direct Download:
Download Files Now
Tips:
You could try out the alternative usenet.nl client.
High Speed Download:
Unlimited Speed Download
Ads: